Finally Enough Love: 50 Number Ones
---
Album artwork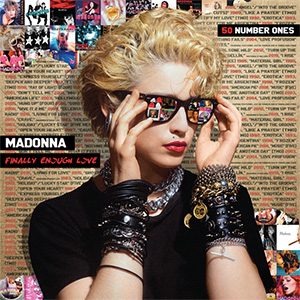 Album tracklist
Finally Enough Love: 50 Number Ones:
Finally Enough Love:
* previously unreleased
+ available digitally for the first time
# available commercially for the first time
Album info & release
To celebrate her 50 number one hits on the Billboard Dance Club Songs chart, Madonna released two new remix collections.
Finally Enough Love: 50 Number Ones is a 50-track collection that was made available digitally on August 19, 2022, along with a 3-CD version.
The 16-track version, Finally Enough Love, is available for streaming since June 24, with 1-CD and 180-gram 2-LP versions released on August 19, 2022.
Boasting more than 220 minutes of remixes, FINALLY ENOUGH LOVE: 50 NUMBER ONES flows in mostly chronological order, showcasing the many musical reinventions that made Madonna an international icon, from 1983's "Holiday" to 2019's "I Don't Search I Find," with remixes by some of the biggest and most influential DJs of all time including Shep Pettibone, William Orbit, Honey Dijon, and Avicii.
Charts
The album peaked at #8 in the US Billboard Top 200 Album chart, while it held the top position of the Top Dance/Electronic Albums chart. It reached #1 in Australia, Belgium, Croatia, Portugal, and The Netherlands, while settling for #2 in Denmark, France, Germany, Ireland, Italy, Spain, and Switzerland. It was at #3 in the UK and #7 in Canada.
↑ Back to top of page