The Sticky & Sweet Tour
---
Album artwork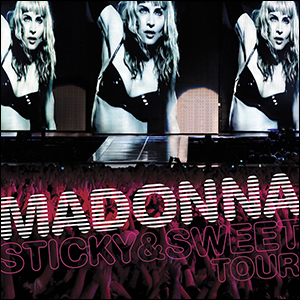 Album cover, shot by Guy Oseary
Art work by Frank Maddocks

Album tracklist
Album release
Madonna released her third live album The Sticky & Sweet Tour on April 6, 2010 (March 26th/29th in Europe/UK). Following the tradition started with her previous live albums, it's once again a selection of 13 live audio tracks. All the songs, which mainly focus on her most recent studio album Hard Candy, were recorded at the December 2008 Buenos Aires shows of the Sticky & Sweet Tour. In the US, the CD is only available as a bonus disc with the DVD edition of the show, while in the rest of the world it's also included with the Blu-Ray edition.
The digital version on iTunes, contains 4 bonus tracks: Heartbeat, Borderline, 4 Minutes & Ray Of Light; the Amazon.com MP3 version substitutes Heartbeat with Miles Away.
Sales & Charts
The CD/DVD reached #17 in the UK with selling above 12,000 copies, while in the US it became Madonna's first live release to crack the top 10, entering at #10 with sales of 28,000 copies.
↑ Back to top of page