Erotica
---
Album artwork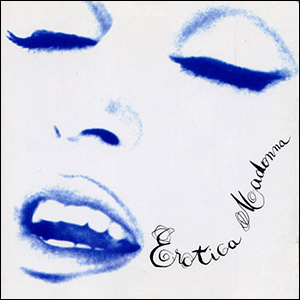 Album cover, shot by Steven Meisel

Album tracklist
Single releases
Outtakes & Demo tracks

Dear Father


Erotic


Love Hurts


Good-bye To Innocence


Shame


Up Down Suite


You Are The One


You Thrill Me

Album production & release
It's beyond any doubt that controversy in Madonna's career peaked in the early nineties. Controversy had been around from the very beginning: rolling on the floor in the Like A Virgin wedding dress, promoting materialism in Material Girl (or that's what the critics thought), the peep show in Open Your Heart, the pointy Gaultier corsets from the Who's That Girl Tour and Blond Ambition Tour, singing about teenage pregnancy in Papa Don't Preach, kissing a black priest in Like A Prayer and chaining herself to the bed in Express Yourself.
But in the nineties the controversy became more sexual and more explicit. Justify My Love was the starting point of a raw sex period, where Madonna talked openly about all kinds of sex and sexuality. The 'Sex' book and the movies In Bed With Madonna and Body Of Evidence showed a Madonna pushing the boundaries further than ever, maybe even too far.
It was in this period - on October 20, 1992 - that Madonna released her Erotica album. After the concept album I'm Breathless Madonna wanted to make a real dance album, so she teamed up with producer Shep Pettibone, whom she collaborated with for Vogue and Rescue Me, and who was a real expert in dance music. Later Andre -Dre- Betts joined the team and added a hip hop sound to the album. The result was a catchy album with 14 tracks with R&B, house/trance, dance and hip hop influences.
In the US there were two different versions of the Erotica album: the 'clean' version, which doesn't include Did You Do It? and the original version, including the rap song, while carrying a parental advisary sticker on the cover.
Singles
The album was promoted by no less than six singles: Erotica, Deeper And Deeper, Bad Girl and Rain were released worldwide; Fever and Bye Bye Baby got a limited release. Unfortunately many people thought Madonna had gone too far this time. Despite a great album and great videos, the album and singles weren't that successful. The title track was the first ever lead-off single from a Madonna album that failed to get to #1 since the first album; the other singles failed to get to the top 5 in the charts. Only the club scene showed some appreciation: Erotica, Deeper And Deeper and Fever were all #1 in the Hot Dance / Club Play chart.
Sales & Charts
In the album charts, the album got to #1 (France, Australia), #2 (US, UK), #3 (Canada), and #5 (Germany). In the US it was certified double Platinum in January 1993 for shipments of 2 million copies. To date it sold about 5 million copies worldwide.
↑ Back to top of page