Truth Or Dare / In Bed With Madonna
---
Movie artwork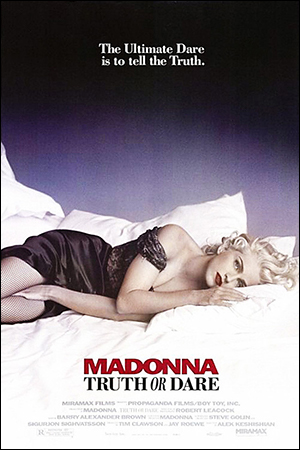 Pictures
Cast

Madonna: as herself


Pedro Almodóvar: as himself


Antonio Banderas: as himself


Warren Beatty: as himself


Sandra Bernhard: as herself


Luis Camacho: as himself


Christopher Ciccone: as himself


Martin Ciccone: as himself


Silvio Ciccone: as himself


Oliver Crumes Jr.: as himself


Oliver Crumes Sr.: as himself


Donna DeLory: as herself


Joanne Gaire: as herself


Sharon Gault: as herself


Salim Gauwloos: as himself


Jose Guitierez: as himself


Niki Harris: as herself


Moira McFarland-Messana: as herself


Kevin Alexander Stea: as himself


Gabriel Trupin: as himself


Carlton Wilborn: as himself
Movie synopsis
Madonna has always had a special relationship with the media. While many stars try desperately to avoid paparazzi's, Madonna has the power to manipulate the media to her advantage. She decided to give director Alek Keshishian carte blanche to film her during her Blond Ambition Tour. The result is a controversial rockumentary with live performances (filmed in colour) and backstage scenes (in black & white). The film, a first in its kind, gives fans a look behind the scenes of a Madonna tour, with a focus on Madonna's relationship with her dancers and tour crew.
Production info

Directed by: Alek Keshishian


Produced by: Jim Clawson, Steve Golin, Lisa Hollingshead, Madonna, Daniel Radford, Jay Roewe & Sigurjon Sighvatsson


Production company: Boy Toy Productions & Miramax Films


Locations: Barcelona (Spain), Detroit (US), Houston (US), LA (US), Madrid (Spain), NY (US), Nice (France), Paris (France), Rome (Italy), Tokyo (Japan), Toronto (Canada), Venice (Italy)


Date of filming: April 1990 - Aug. 1990


Budget: $ 4 million
Release info

Released as: Truth Or Dare (US) / In Bed With Madonna (Eur.)


Released in theatres: May 10, 1990 (US)


Released on DVD: Aug. 26, 1997 (US); May 10, 2002 (Eur.)


Runtime: 114 minutes


Genre: Documentary


MPAA rating: Rated R for explicit language, adult situations, and brief female nudity.


Box office: $ 15.012 million (US)
Trivia

Not everybody was happy with this movie. Madonna's partner at the time, Warren Beatty demanded that some private phone calls between him and Madonna were cut. Dancer Gabriel filed a lawsuit against Madonna for violating his privacy, because the movie outed him as gay. Two other dancers Kevin and Oliver sued to get financial compensation from the movie release.


In 2016, 25 years after the release of Truth Or Dare, a Dutch documentary 'Strike A Pose' brought the remaining Blond Ambition dancers together to see how their lives had changed after the Blond Ambition Tour and Truth Or Dare.
Awards
1992 American Cinema Editors:


Nomination for 'Best Edited Documentary' (Barry Alexander Brown)
Soundtrack
There's no soundtrack for this movie. The (edited) live performances from the Blond Ambition Tour are: Express Yourself, Oh Father, Like A Virgin, Holiday, Live To Tell, Vogue, and Keep It Together. The following unedited performances appeared on a limited VHS edition: Like A Prayer and Hanky Panky.
↑ Back to top of page