30 April - Watch Roseland Ballroom concert online
You can watch Madonna performing at Roseland Ballroom on the MSN site (US) and on the French SFR site (for non-US fans) at 4 am CET.

30 April - Madonna.com gets Candy make-over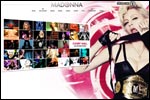 Coinciding the Hard Candy album release, Madonna's official website has received a sticky & sweet make-over. The site offers an overview of her Music (with audio samples, album info & liner notes), her Films and her Books. Official Madonna merchandise can be bought in the Store. The Exclusives and Community sections are only acessible for ICON members. Very positive about the site is the video wall (on the home and in the Music section) and the picture database (Music section). Negative points is that the tour section only contains 'current tour dates' (so nothing at the moment) and no info on previous tours. Also disappointing is the total lack of song lyrics.
~ It's no Mad-Eyes but still worth a look! ;-)

30 April - Watch Madonna interview at AT&T Blue Room
AT&T presents a really cool and long interview with Madonna, where she talks about her collaboration with Pharrell, Justin & Timbaland on Hard Candy. She also discusses several of the new tracks, how they were created, what they're about, and which she likes to perform on stage. Check out the streaming video at the AT&T Blue Room.


30 April - Tonight's NYC gig mobile streaming on Vodafone & Verizon


Verizon Wireless and Vodafone announced they will team to deliver a live global mobile simulcast spotlighting performances from Madonna's April 30 show at New York City's Roseland Ballroom. The simulcast, which expands Vodafone's exclusive mobile content distribution and promotion deal with Warner Music International in support of the new Madonna album Hard Candy, will feature four live songs from the disc, officially dropping Tuesday. Verizon Wireless is scheduled to begin the mobile broadcast at 10 p.m. EST via the V Cast Performances channel, with Vodafone Live's broadcast beginning at 3 a.m. GMT for subscribers in the U.K., Germany, Italy, France and close to a dozen other international markets. V Cast Performances will also archive the performance for 30 days.
Earlier this month, Verizon Wireless issued an exclusive "mobile underground remix" of the new Madonna single 4 Minutes remixed by hip-hop mastermind Timbaland, who is also slated to release an exclusive album via the operator's Mobile Producer in Residence program. (source: Fierce Wireless)




28 April - Hard Candy Madonna added to Madame Tussauds
A reworked wax model of U.S. singer Madonna is seen at Madame Tussauds in London, Friday, April 25, 2008. The wax figure has been brought in line with the U.S. singer's current image by adding new make-up and hair style as well as being dressed in a black corset, boxing title belt and knee high boots. Additionally an illustration of Madonna's latest album cover, Hard Candy is seen behind, and is made entirely from jelly beans. The exhibit will be on display from Monday, April 28. (source: AP)


28 April - Madonna's Hard Candy galore out today!
Today, Madonna's long awaited studio album Hard Candy, featuring some sticky & sweet collaborations with Justin Timberlake, Timbaland, Pharrell & Kanye West, is internationally available for sale!
So no waitin' or hesitatin', get your copy today!
Some European countries had the privilege to get it last Friday already. US fans have to wait till tomorrow, April 29.


27 April - Hard Candy review: A return to form
If I had a pound for every Madonna album that has been hailed as a "return to form", I'd have, ooh, five or six quid by now. Undoubtedly, you will hear - if you haven't already - that Hard Candy is a return to form. The question is, what form? The form of Like A Virgin? Don't be silly. Like A Prayer? Nope. Ray Of Light? Well, no, not quite, but Hard Candy does feature the best songs Madonna has come up with in the decade since Ray Of Light, a stunning trio packed right in the middle of Hard Candy: Beat Goes On, the collaboration with Kanye West; the fizzing, rattling Incredible; and She's Not Me, a song in which Madonna reminds herself how good she can be, and which contains the most gorgeous breakdown you've heard in years. (rating: 3/5 stars, by Sunday Times)


27 April - Supposed Roseland Ballroom setlist
According to fansite Madonnatribe, the songs Madonna is going to play next week in Roseland Ballroom, NYC are:

Candy Shop
Miles Away (with Madonna playing the guitar)

Music (Fedde Le Grand Mix)

Give It 2 Me
4 Minutes (featuring Justin Timberlake on video screens)

Hung Up (rock mix)
The event is going to be broadcast here.


27 April - Madonna scores 11th Australian #1!
More fantastic news for 4 Minutes: after conquering many European charts already, Madonna & Justin now make it to #1 in Australia, getting the 11th Australian chart topper for Madonna!

Madonna's Australian #1s:

Like A Virgin (1984)

Angel / Into The Groove (1985)

Crazy For You (1985)

Papa Don't Preach (1986)

Like A Prayer (1989)

Vogue / Keep It Together (1990)

American Pie (2000)

Music (2000)

Me Against The Music (2003)

Hung Up (2005)

4 Minutes (2008)

~ For more chart stuff, check new album/single chart news, new album/single chart runs and Madonna chart history pages.


27 April - Hard Candy review: It's dandy!

Imagine this: A new Madonna album comprised entirely of brisk, hard dance anthems, all boldly updating the blissful hits of her club-driven youth.
Now imagine that none of those songs (save the advance single) has anything to do with world politics, spiritual growth, starving African children or any lingering mother issues. Instead they present a wall-to-wall call to the dance floor, fired by ecstatic, innovative, and propulsive beats, paired to tunes that will make you swoon.
That's what Madonna's last album - 2005's Confession On A Dance Floor - promised to be, but hardly was. We still had Kabbalah references, finger-wagging "issue" songs and lots of cuts that weren't nearly as danceable or catchy as advertized.
Anyone disappointed by that album should take a lick of Hard Candy, out Tuesday. It's everything Confessions professed to be - and more: a disc that gorges on catchy choruses, nagging beats and insouciant vocals. It may be the best album of Madonna's career. Certainly it's the most consistent (not counting "greatest hits" cheats).

Plenty of people will carp that Madonna had to haul in some of the heaviest hitters she has ever collaborated with to pull this off - including Justin Timberlake, Timbaland, and Pharrell. Hard Candy represents only the third time in Madonna's long career when she has relied on top, proven talent as conspirators, rather than bringing in newbies she can nurture and/or control.
The last time she did this was her ultimate career low, in 1994, following the hideously reviewed "Sex" book. She bounced back with Bedtime Stories, produced by can't-miss guys like Babyface.
It's hard to say why Madonna felt she needed to bring in such headline-making help this time, unless it has to do with facing the Big Five-Oh - she hits it Aug. 16. Or the fact that Hard Candy marks the end of her contract with the only label she has ever known (Warner Brothers). Either way, Madonna has given the company the richest possible parting gift.

Where to begin?
The first single - the smash 4 Minutes - is probably the least engrossing track on the CD. It's the only one that goes for the political, rather than the personal, though it does so in such a vague way, you can barely tell. Of course, it's as much a Timberlake song as a Madonna turn but that's the only track where the star attraction threatens to piggyback on another person's turf.
That was the worry for Hard Candy. Fans feared it would find Madonna vampirically sucking the blood of the latest urban gods to gain back her youth. But the point turns out to be moot. In fact, Pharrell and Timbaland have never sounded this frothy, and that clearly comes from Madonna's talent for zip.
Take Heartbeat. Madonna co-wrote the cut with Pharrell, and although it benefits greatly from the hook of his trademark orgasmic moans, Maddy's vocal has an R&B sheen that cinches it.

The title track kicks off the CD and sets its exuberant tone. It's got tribal/urban beats, cunning lyrical innuendos, and a chorus with the R&B-jazz twist of a Kool and the Gang hit from the '70s.
In Miles Away Madonna recycles a neat trick from the past: She uses abrupt guitar strums as an acoustic contrast to the synthetic clack of the beat. Vocally, she hasn't sounded as ravishing as she does here since Evita.
Incredible has real bubble gum snap. Beat Goes On makes sure it does.
I could go on raving about the tracks, but I won't. I want to go back and listen to them. (rating: 5/5 stars, by New York Daily News)
~ Check out more reviews: New York Post, Chicago Tribune, The Observer, The Boston Globe


27 April - Stuart Price encouraged Madonna to take the next step
There's no big mystery why Madonna hooked up with such R&B-hip-hop stars as Justin Timberlake, Pharrell Williams, producer Timbaland and his protege Nate "Danja" Hills for her new dance-pop album, Hard Candy, in stores Tuesday.
"Because I love their music and when I like something I go after it," said the 49-year-old Material Girl during a recent roundtable interview with reporters from around the world including Sun Media in a Canadian print exclusive.

"That's it -- not too intellectual," she said before elaborating. "I was just thinking about what I wanted to do next. I'd made a dance record -- my last album (2005's Confessions On A Dance Floor) -- which was mostly house music, and I was sitting around talking to (previous songwriting-producing collaborator) Stuart Price one day and he said, 'Well what do you want to do next?' I said, 'I want to make dance music as always.'
And he said, 'Well, what kind of music do you like right now?' And I said, 'Well, the only records I love are Justin's and Timbaland's.' And he said, 'Well, why don't you work with them?' So I did. It's a great sound, so why not?"

So if you think the famously chameleon-like Madge, now on her second marriage to British filmmaker Guy Ritchie and a mother of three (11-year-old daughter Lourdes, 7-year-old son Rocco and 2-year-old son David), has settled down since her early days of wanting to shock the public into thinking by pushing sexual, religious and social boundaries, think again.
On the album cover of Hard Candy, she takes on the persona of a female fighter.
"I'm still trying to make those hits," she said of her career, 25 years and sales of 200 million later.
"Everybody wants to make music that people want to listen to; that people want to hear on the radio. I've never, ever made a record where I didn't care whether people heard it or not...
"I think I probably wrote about simple, straightforward, let's-just-have-a-good-time kind of songs when I first started out. And then as I evolved and changed as a human being, my music has been a reflection of that.
"That doesn't mean I can't still write a song about just getting up and dancing and feeling good. But I think that my songs have more of a sense of irony in them or contradiction in them than they used to. And I'd like to think that they're more complex."
Continue the article here


26 April - Madonna webcast next week
In celebration of the release of Madonna's upcoming album Hard Candy, Control Room, MSN and Verizon Wireless will present the one and only Madonna live in New York's famed Roseland Ballroom on Wednesday, April 30th.
The show will be available live on MSN Music In Concert and will also be available for viewing post-show. - You can watch it here (source: antiMusic)


26 April - Chart beat chat: Why isn't 4 Minutes #1 on Billboard Hot 100?
Dear Fred,
As always, I have been a fan of your column and with time I have enjoyed watching the changes as the charts are adjusted to [keep up with] the ever- changing music industry.
That said, how in the world is "Lollipop" by Lil Wayne No. 1 when it is not No. 1 in airplay or sales? Madonna (yes I'm a little biased here) has had the best-selling digital track for a number of weeks and I know airplay is picking up, but can you explain what combination of numbers helped "Lollipop" become No. 1?
Thanks,
Jorge Escobar
New York, N.Y.

Dear Jorge,
Glad you enjoy Chart Beat and thanks for your question.
The answer lies not in any changes in chart policy or the technology used to compile the charts. The answer is as old as the Hot 100 itself, and for anyone who is counting, that is 49 years and nine months.
The Hot 100 was conceived as a chart that combined sales and airplay information and while the formula has been changed many times, it has continued to be a chart that blends sales and airplay information. So it is not uncommon for a song that is neither No. 1 in sales or airplay to be the No. 1 song of the week once sales and airplay figures are combined. Whichever song has the largest grand total of sales and airplay figures is No. 1 on the Hot 100.
It is an objective figure, not influenced by any personal feelings for or against any artist, as some other readers have suggested in e-mails I have received over the last few weeks.
The only way "Lollipop" could be No. 1 is that when you add its sales and airplay together, the number you get is larger than any other combined sales and airplay total for the week. And that is exactly what happened this week and you can be sure that is what happens every week, no matter which song is No. 1.

Hi Fred,
Lately I've been following the charts closely, expecting Madonna's new single, 4 Minutes, to reach the top of the Hot 100. Sadly (yeah, I am a huge Madonna fan), the song has already started dropping down. Too bad for my expectations.
On the other hand, the song has topped the Canadian Hot 100 chart for three weeks in a row now. Personally, I thought Madonna would be more popular in the United States. Why do you think the new single hasn't been such a hit in the United States?
I love reading Chart Beat and Chart Beat Chat every Thursday. Thank you.
Vincent Morin-Côté
Quebec City, Quebec

Dear Vincent,
Like I told Jorge above, I'm glad you enjoy my columns, and thanks for your question. I have had a lot of inquiries from readers over the last three weeks, mostly from Madonna fans, asking why 4 Minutes hasn't achieved pole position on the Hot 100.
From my reply to Jorge, you already know the answer – when you combine the sales and airplay figures for 4 Minutes, the song doesn't have the largest grand total, even with the single being No. 1 on the Hot Digital Songs tally.
What's keeping this Madonna song out of first place is its airplay. The spins have been increasing each week, ever since the single debuted at No. 51 on the Hot 100 Airplay chart dated April 5. Since then, the single has climbed 51-41-30-27-16. But 4 Minutes needs more airplay of it is going to climb to the summit. If airplay does increase, it will need to keep its sales figures up to move into the penthouse.
The largest sales week for 4 Minutes to date was its first week, when it debuted at No. 2 on Hot Digital Sales. The figure dipped slightly the second week, although that reduced number was the largest sales figure for the week, allowing the single to move up to No. 1. Sales then took a bigger drop the third week when the single dipped to No. 2, and increased slightly in the fourth chart week, helping 4 Minutes to return to No. 1.
(source: Fred Bronson's Chart Beat chat)
~ For more speculation, visit our chart news page, dedicated to the chart performance of Madonna's current releases.


26 April - Hard Candy review: by Billboard
Madonna makes producers, producers don't make Madonna. The diva plucked William Orbit, Mirwais and Stuart Price from electronic music obscurity, meshing her own pop sensibility with their sonic specialty. But for Hard Candy, Madge hooked up with name-brand guys like the Neptunes and Timbaland, and even brought on Justin Timberlake as a writing partner. What results is, expectedly, of-the-moment and radio-ready. 4 Minutes, with Timberlake, is already a top three Billboard Hot 100 hit, and harmonious ballad Miles Away might be some of her best work yet. But it feels familiar. Miles is a close cousin to Timbaland's "Apologize," Spanish Lesson is a dead ringer for N*E*R*D's "She Likes to Move," and Devil Wouldn't Recognize You instantly recalls Timberlake's "Cry Me a River." That's par for pop acts when they collaborate with producers who are bigger stars than they are. But for a vanguard artist like Madonna, it feels like a bit of a concession. - Kerri Mason (source: Billboard.com)


25 April - Madonna chews on work, love, Hard Candy
More than a quarter-century after debut single Everybody got everybody dancing, Madonna has yet to be demoted to Immaterial Girl, even in this

age of flash-in-the-pantheon stars.
"Don't stop me now, don't need to catch my breath," she defiantly sings on her new track Give It 2 Me. "I can go on and on and on."
So it seems. It's one of a dozen cuts on her Hard Candy disc, out Tuesday with assists from Justin Timberlake, Timbaland and Pharrell Williams. She also has directed the comedy Filth and Wisdom and produced and written a documentary, I Am Because We Are, about AIDS orphans in Malawi. That's where she found David Banda, the 2-year-old she and filmmaker husband Guy Ritchie are adopting.
Madonna chats from her London home:

Q: Why these collaborators?
A: I love their records, and they bring out the best in other people. I thought we could play to each other's strengths. I decided to work with singers, songwriters and producers who are artists in their own right and see what that would manifest.

Q: Did you instantly click?
A: No, I don't think you do with anyone. I'd met them before in social circumstances. It's quite different when you sit down and say, "Let's write a song." You're putting yourself in a vulnerable position. Will they think my ideas are stupid? Can I speak freely without hurting anyone's feelings? That's awkward. They're personable, and nobody was unprofessional.

Q: What inspired Hard Candy's urgent, mobilizing fervor?


A: We don't have the luxury of thinking someone else is going to take care of our problems. Obviously, I've been focused on the world around me and taking responsibility for the past few years. (Candy) also is about life's surprises and trust and disappointment, about finding out that people I thought were my friends weren't. It's staying flexible, not being married to any fixed idea and not taking anything too literally.

Q: She's Not Me could be a response to Madonna wannabes.
A: I wasn't thinking about that. I'm very happy if what I do and what I've accomplished has inspired other women or given them a sense of ownership of their destiny. I don't think anyone is trying to be me. To me, (She's Not Me) is the ultimate jilted lover song. The follow-up to I Will Survive, maybe a little angrier.

Q: Work often separates you and Guy, which you address with some sadness in Miles Away.
A: That's the drawback of two artists living together. We have to make sacrifices, and there's always a trade-off. It's about long-distance relationships in general. After I wrote it, the guys in the studio were like, "I can totally relate."

Q: Is the media spotlight less welcome now that the cameras are on your family?
A: Attention on the adoption bothered me because it will filter down to my other children (Lourdes, 11, and Rocco, 7), and it's hard for them to understand why anyone would get mad at me for saving someone's life. We have a basic understanding in this house that most things written in newspapers and magazines aren't true.

Q: What's your reaction to the microscope Britney Spears has been under the past year?


A: I have a lot of compassion for her. People are being entertained by her suffering. I don't condone it, and it makes me sad.

Q: You turn 50 on Aug. 16. Any dread about that milestone?
A: I love birthdays. You get to have a party and people give you presents. I don't think this year is any more significant than last year.

Q: Reports keep surfacing that you've had cosmetic surgery. Sharon Osbourne rather indelicately said, "I went into shock at Madonna's new head." Do you want to respond?
A: There's something undignified about commenting on someone else's commentary. I don't mind what she says or doesn't say.

Q: As someone on the cutting edge of trends, do you think the best music gets heard?
A: Not necessarily. If a fire engine's blaring in my ear, I'm not going to hear the fantastic mandolin next to me. Everything is about instant gratification and shorter shelf life. Someone who's offering subtleties won't make an impact. We live in a world full of distractions.

Q: Did your induction into the Rock and Roll Hall of Fame last month feel a bit premature?
A: Kind of. I was thinking: "But I'm not done yet. I don't want to be in a museum." I had to stop and look at it as an acknowledgement of the work I've done. The footage they showed was predominantly from the first 10 years of my career, and it seems like centuries ago. I've gone through a million revolutions and evolutions since then. (source: USA Today)

Dance floor queen Madonna is like a kid in 'Candy' store

You might expect sober plaints from a singer devoted to motherhood, Kabbalah studies and activism for African AIDS orphans. But Hard Candy's frenzied blast of hard beats and candy-coated grooves verifies that Madonna is still expressing herself on the dance floor.
"People love to dance, even if they only rock back and forth," Madonna says, explaining her refusal to abandon the genre on her new album. "It's a

primal force people are drawn to."
The same could be said for Her Madgesty. Candy, arriving Tuesday, earned a four-star rave in Rolling Stone. Entertainment Weekly's B+ review dubs it "an unpretentious, non-stop dance party." First single 4 Minutes, featuring Justin Timberlake and Timbaland, is the top-selling digital track (847,000 downloads) and a YouTube video sensation that has spawned endless fan spoofs and remakes - and prompted Madonna's amusing "Message to YouTube" response.
The superstar's 11th and final studio album for Warner Bros. marks a transition to her monster deal with Live Nation. Announced last fall, the 10-year partnership, worth an estimated $120 million, entails recordings, touring, merchandise, online and fan club endeavors, DVDs, TV/film projects and sponsorships.
As CD sales plummet and the industry struggles for footing in the digital age, Madonna says she stepped into the future. "I have to feel optimistic," she says. "Whenever there's shift, things break down and people find new ways to operate. It's a natural evolution, and you can't fight it or feel sorry for yourself. Thank God, I don't have to rely only on record sales. I know how to put on a show."
Madonna plans to bring Hard Candy's sweet and edgy grooves to the stage this fall. At 49, can she still cause a commotion?
"Madonna may have made a deal with Live Nation, but that does not mean she's the ubiquitous cultural icon she once was," writes industry blogger Bob Lefsetz. "If (young fans) go to the show at all, it will be with their parents, as nostalgia. Give Radiohead and Trent Reznor props. They're living in the now. Madonna is living in the 20th century."
But Geoff Mayfield, Billboard's director of charts, says Madonna has legs. "She still has the ability to debut at No. 1," he says. "She'll tour longer than a lot of other pop artists might. She has a huge fan base. There are people that age I wouldn't bet on, but I'd never bet against Madonna." (source: USA Today)


25 April - Hard Candy review: A hint of vintage Prince & Jacko
She may be fast approaching her half century – which arrives in August – but Madonna is not about to gracefully step aside and become a shy retiring

elder stateswoman of pop.
In the past, (very) old boyfriends – Warren Beatty – were embarassed by her antics. Now it's the turn of her daughter Lourdes.
From the opening title track of Hard Candy, it sounds as if one of the great British cultural legacies she has readily clasped to her bosom is that of the Carry On movie.
While producer Pharrell Williams of The Neptunes cranks up the sugary beats, she plays the ever-attentive Italian Mama. But when she offers up her sweet and sticky confection and sings "Don't pretend you're not hungry because there's plenty to eat", you get the idea Madge's kitchen isn't strictly in Delia Smith or Nigella Lawson territory.
Humour and sex have long been Madonna staples and they run naturally through the creamy harmonies, nutty rhythms and state of the art dance manoeuvres of Hard Candy like lettering through a stick of rock.
With a phalanx of heavy hitters – Timbaland, Kanye West and Justin Timberlake – onside, Hard Candy takes no chances.
Sticking to the disco/R&B pop script of the career- reviving, 10 million-selling Confessions On A Dance Floor, it's hardly groundbreaking in the way Madge once was. But that's no crime.
The insatiable Give It 2 Me is classic Madonna, and elsewhere other pleasures abound. There's multi-layered majesty on Devil Wouldn't Recognize You, a clammy tale of desire, and the sussed and wry putdown of She's Not Me, where La Ciccone is in tunefully vengeful mode.
On Dance 2Night, she doffs a tweed cap to the wonders of vintage Prince and Jacko in a song that's at least 100 times better than the recent Sir Paul Macca tune of the same name.
No matter how virulent the campaign becomes to make Madge, ahem, "act her age", the lady holds her own. How many other near-fiftysomethings – of either gender – are sufficently in tune with their inner mojo to invite you to "see my booty get down" and still sound sexy?
Putting its nailfiling moments (the aptly named Miles Away) aside, Hard Candy is a mouthwatering proposition. It's just a pity she didn't think to provide promotional napkins to mop up after all the drooling. (source: Daily Mirror)


~ Check out more reviews by Time, Guardian, Uncut Magazine, Kitsap Sun & Los Angeles Times.


25 April - Madonna launches Malawi Aids film
Madonna's documentary highlighting the plight of Malawi's estimated one million Aids orphans has been given its world premiere in New York.
The film, which the singer produced and narrated, tells the story of several children, many of them born to mothers who have died of Aids, most of whom lead desperate lives.
On the red carpet at the Tribeca Film Festival, Madonna told reporters how I Am Because We Are contains a message of obligation.
"We are responsible for each other and that if we can help in any way, shape or form, we should," she said.
The documentary includes some excruciating scenes showing the agonising grief of a mother who has just lost her child to Aids.
There is also a harrowing moment when a young boy - a victim of genital mutilation - is being treated by medical staff.


But director Nathan Rissman said the idea was not just to shock audiences.
"We decided, if we were going to wake people up, we were going to try to point them in the direction of how we can solve these problems.
"There are so many solutions out there and I think that the more that we discuss this, the more that we have a dialogue about what to do, the better," he said.

Inner circle
The film is being launched just as Madonna waits for her adoption of a young Malawi boy to be finally approved by a court in the country.
The documentary shows the pop icon in a very positive light, but Madonna says she was ambivalent about appearing on camera.
"In the beginning I wasn't in the movie at all, but then I realised because I was narrating that it was important that I let people know that it was my personal journey and my experience.
"So I think and I hope and pray that I found the balance of myself in the film as well as the stories of the children," she said.


The film's director has been referred to as "Madonna's gardener" or "Madonna's nanny's husband", while Rissman acknowledges that he is very much part of Madonna's inner circle.
"Both my wife and myself have worked for Madonna and her family for the past four years, and my wife has a relationship with the family that pre-dates mine, but I wouldn't necessarily say that's how I got the gig," he says.
One aspect of Rissman's talents that impressed Madonna was the home movies he shot of her children, which may have played a role in him landing the job as her documentary director.
"I think I proved myself to Madonna and her family as a trustworthy colleague, co-worker, somebody that would share Madonna's creative vision, and I think that she just believed in me, and she saw something that she realised that we can get something done together."

Optimism
He may be a first-timer, but there is an intensity to the way Rissman has made this film, with much of it shot in cinema-verite style.


His camera does more than just convey the tragedy of the Aids orphans, but also shows optimism in the midst of the crisis.
In addition to extensive filming with the orphaned children in Malawi, the documentary includes interviews with Archbishop Desmond Tutu and former President Bill Clinton.
It also propagates the view that Malawians cannot just rely on outsiders for help - they have to take some responsibility for their own problems.
For many of the participants in the documentary, Madonna's efforts are being seen as a laudable attempt to bring attention to a humanitarian crisis that much of the world ignores. (source: BBC)


25 April - Hard Candy sets sex, relationships to hip-hop, trip-hop, disco beats
'Her work ethic is different from everybody else's,' says producer Pharrell.
Is it her Confessions on an Urban Dance Floor? Madonna dabbles in hip-hop on her latest album, the recently leaked Hard Candy, coming out with tracks of almost every flavor.

Candy Shop, the lead track, sets the agenda, alerting us amid bongo-like paint-can beats that "my sugar is raw." In case you haven't already guessed, with Madonna, candy is a metaphor for sex. So is dance. So are a lot of other topics repeated

throughout Hard Candy, on which the actual sex itself is reduced to lines like "Sex with you is incredible." The same sentiment sounds a lot better in song when it becomes "Come into my store/ I've got candy galore." Produced by Pharrell Williams (who actually helmed the bulk of the tracks that made the album), Candy Shop is designed to generate heat.
"We were just in a studio," Pharrell told MTV News, "and she was like, 'Look, give me some hot sh--.' I was looking at her like, 'She's saying hot sh--?' She was like, 'What?' And I'm like, 'OK.' So we just worked and made it."

By Give It 2 Me, the album's second single, she's worked into a frenzy, merging what sounds like an early-Madonna bounce-beat, a funky bass line and driving-turned-skittering synths. "If it's against the law, arrest me," she sings. "If you can handle it, undress me." A strange interlude has Madge flatly repeating, "Get stupid," over and over as Pharrell chants, "To the left, to the right," but soon passes. (The Paul Oakenfold remix tightens the beat and straightens the synths.)

On Heartbeat, Madonna fluctuates between the sweet and the tart, in one breath singing, "When I dance, I feel free," as if the sun were shining on her, and then chanting, "See my booty get down," as if she were in a club corner. She stays on the sweet note for Miles Away, the most deceptively

simple track on the album. Unlike the disjointed structure of songs like Incredible (which could be two or three songs in one), Miles Away is straightforward, but it has a lot of technical trickery underneath it to give it layers. It's also one of the few songs on the album that departs from the "Let's dance" theme to delve into the difficulties of long-distance love. "Uncomfortable silence can be so loud," Madonna sings wistfully.

If the relationship Madonna sings about in Miles Away is slowly disintegrating, by She's Not Me she's been replaced - and she doesn't like it one bit. Blasting the competition with a disco funk, Madonna sings jauntily, "She started dressing like me and talking like me/ It freaked me out/ She started calling you up in the middle of the night/ What's that about?" She doesn't sound threatened, because she knows "I can do it better."

Even so, it's always better at the beginning, she insists in Incredible. The track starts off like a love song but reveals itself to be a plea to someone to start over, and then morphs yet again into a joining of the pair. With each theme, the song seems to throw itself into a new gear, and the constant shifting can be disorienting, especially with Pharrell chanting, "Boom!" and then moaning. But perhaps the shifts reflect Madonna's own confusion about how she feels. "Can't get my head around it," she sings. "I, I need to think about it."

She's more certain by Beat Goes On, which takes her back to the disco days, then back to the future in time for a guest rap by Kanye West, who claims that "fame is a drug." Madonna adds to the thought on Dance 2Night, on which Justin Timberlake is getting her into the groove, when she sings, "You don't have to be beautiful/ To be understood/ You don't have to be rich

and famous/ To be good." At this point, she's ready for a little whimsy in Spanish Lesson."If you do your homework/ Baby I will give you more," she taunts. And work is a turn-on for her, Pharrell revealed. "Her work ethic is different from everybody else's," he said. "She's like, 'Look, we can joke, but let's work and really get a lot done.' And I love that."

One of the songs that Madonna worked on before teaming with Timberlake and Timbaland, another collaborator, is the dark Devil Wouldn't Recognize You. It feels like it could have belonged on Ray Of Light or Music, with its harmony and sense of mystery. It starts softly and slowly, like a piano ballad, but then becomes thick and lush as the melancholy builds: "Your eyes are full of surprises/ They cannot predict my fate." Here, as on Miles Away, Madonna shifts between vocal registers not for sexual come-ons, but to impart meaning to the soundscape. The trip-hoppy Voices also brings the album to a down note, with unresolved chords and sweeping strings, as she questions who is really in control: "Are you walking the dog?/ Is that dog walking you?" she asks. Intriguing, but ever the tease, she never answers. (source: MTV.com)


24 April - Hard Candy review: Hard Candy is bittersweet

A Madonna album these days is far more than the songs she's written or co-written.
It's about the team she has assembled to work their production magic.
But for Hard Candy, The Material Girl's 11th studio album, you can't help but think she's been left in the starting blocks.
In the past Stuart Price on Confessions On A Dance Floor, William Orbit on Ray Of Light and Mirwais on Music, all got it right.
This time, she has employed the talents of The Neptunes, Timbaland, Danja Hills and Justin Timberlake – but haven't we heard it all before?
Where's the originality we expect from the Queen Of Reinvention? You can't turn on the radio these days without hearing a Pharrell/Danja/Timbaland or Timberlake enhanced song.
Gwen Stefani, Nelly Furtado and Britney Spears all got in there first, working with the überproducers well before Madge got a sniff, and it kinda spoils her track record of leading the way.
Opening track Candy Shop is Madge's favourite track on the album. Produced by The Neptunes, like six other tracks on Hard Candy, it oozes lyrics full of sexual innuendo but sounds like cheap talk coming from a woman pushing 50.
The horn-filled 4 Minutes – the current UK No1 – fares better and features Justin Timberlake, who co-writes five tracks (though it's Justin who steals the limelight on this jaunty track). Next single Give It 2 Me is a pure Neptunes winner.
A bouncing beat with vocoder vocals, it's one of the pure pop moments. Miles Away is more urban in style and begins with a summery acoustic guitar and is by far the best track.
She's Not Me has all the makings of a brilliant track – the funky guitar intro is a throwback to her Eighties heyday. But Madonna's harsh vocals can't carry the sweet melody.
Another Pharrell-produced number, Beat Goes On sees rapper Kanye West join in.
Spanish Lesson is worth a mention simply for being so bad. It's up there with American Life and Hanky Panky for "Worst Madonna Track Ever". Her multilingual mutterings make this song bottom of the class.
The problem with Hard Candy is that it just doesn't suit Madonna's style.
This album would be better if it didn't have her on vocals. Her thin voice fails to blend with the hip-hop vibe.
After Confessions On A Dance Floor which proved she was still Queen Of Disco, her hip-hop venture doesn't work.
Let's hope her next CD is a return to her pop roots to get us back into the groove. (rating: 3/5 stars, by The Sun)


24 April - Hard Candy review: Madonna aims for urban dance
Madonna may be a 49-year-old working mom pushing 50, but she still loves her dance floor, her catsuits and her pop hooks.
She's also an expert chameleon, co-opting current musical tastes for her own pleasure. In the case of Hard Candy, her final studio album for Warner Bros. following a landmark deal with concert promoter Live Nation, Madonna aims high, enlisting two of music's heavyweight producers - Timbaland and the Neptunes.
The album jumps off the disco of 2005's Confession On A Dance Floor with thunderous, uptempo club grinds but also some surprisingly dark moments. The Neptunes - the production duo of Pharrell Williams and Chad Hugo - add retro-synth beats while Timbaland punches up the power R&B, along with Justin Timberlake and Nate (Danja) Hills.
Madonna co-wrote and co-produced the album's 12 tracks, which swerve from the psychedelic-horn blitz of the Timbaland-produced hit 4 Minutes to the swooping drama of Voices.

The album's sound is not original: After all, the Neptunes and Timbaland are arguably the most ubiquitous hitmakers in the business, and have done the urban dance pop treatment for the likes of Gwen Stefani and Nelly Furtado (Chad Hugo and Timbaland are even on the new Ashlee Simpson record - enough said). But while the tunes are not edgy, they still make your booty shake.
"My sugar is raw/ Sticky and sweet," Madonna intones on the Neptunes-produced intro Candy Shop, fusing heavy beats with Like A Virgin coy sex appeal and a later falsetto reminiscent of Britney Spears.
4 Minutes, one of the album's best tunes, explodes with Timbaland's repetition of "fricke-fricke-four minutes!" as Madonna and Timberlake exchange shout-outs. Their voices, oozed through thick production, complement each other nicely (although their sexual repartee can feel a bit forced).
On Confessions On A Dance Floor, Madonna delved into her religious beliefs with a song about Kabbalah; on 2003's American Life, she jumped into political commentary. Here, she steers clear of family, religion and politics, sticking to mainstream fodder: sex, dancing, relationships. But there are three tunes that shed the party vibe and reveal some necessary vulnerability.

Miles Away laments being far away from a love, while Voices focuses on demons plaguing a romance. Devil Wouldn't Recognize You, made theatric by an interlude of thunder and rain, recalls Timberlake's bitter hit "Cry Me A River" (produced by Timbaland). Touching on manipulation following a dead relationship, Madonna croons over a dark pop refrain, "I've been on that ledge before, you can't hide yourself from me."
However, there's still a tendency on Hard Candy toward too many throwaway dance cliches. "Get stupid, get stupid, don't stop," she proclaims teen-style on Give It 2 Me, a catchy synth jam with sputtering riffs sure to be another single.
The lyrics pick up on anthem She's Not Me. In feisty form, over funky bass and guitar lines and electro claps, Madonna let's her diva flag fly: "She started reading my books and stealing my looks and lingerie ... she's not me and she never will be," she sings, slamming a gal trying to cop her style and take her man.

Disappointingly, Beat Goes On, Madonna's outing with Kanye West, recedes into retro disco territory with a tired callout: "Get down, beep beep, gotta get up out of your seat." Yawn.
Still, the beats boom out loud and clear. Madonna may be strutting her way into AARP-teritory but she still belongs on that forever shimmering dance floor.
Check this track out: Save for its overly dramatic "Phantom of the Opera" swell of violins, Voices closes out Hard Candy with a catchy yet philosophical slant. "Who is the master? Who is the slave?" Timberlake trills to his Material Girl maestro. We wonder that too. (source: AP via Yahoo)


24 April - Madonna shines light on Malawi with documentary
A single phone call prompted Madonna to begin charity work in Malawi and it was while making a documentary on the African country's 1 million orphans that she found a baby she decided to adopt.
Premiering at New York's Tribeca Film Festival on Thursday, "I Am Because We Are," which was written, produced and narrated by Madonna, looks at the plight of the children orphaned by the AIDS crisis in one of the world's poorest countries.
Her interest in Malawi began about two years ago after she was contacted by a businesswoman, born and raised in the country, through a mutual friend. "She said it was a state of emergency," Madonna says in the film. "She sounded exhausted and on the verge of tears. I asked her how I could help.
"She said: 'You're a person with resources. People pay attention to what you say and do.' I felt embarrassed. I told her I didn't know where Malawi was. She told me to look it up on a map and then she hung up on me," said Madonna, 49.
She educated herself on Malawi and the result is a charity for the country's orphans called Raising Malawi and the 94-minute documentary from first-time director Nathan Rissman.

"It was during filming, during researching these different orphanages, that she found David," Rissman said in an interview.
David is the Malawian boy Madonna and her film director husband, Guy Ritchie, are adopting. He has lived with the couple in London since shortly after the adoption process began about 18 months ago. Malawi's government, which has been criticized for giving the singer-actress preferential treatment, has recommended the adoption be approved and a hearing on that is set for May 15.
"I Am Because We Are" shows footage of David being cared for by a 9-year-old girl with HIV at the Home of Hope orphanage in Malawi.

Wake up, people
In the documentary, Madonna says David's mother had died in childbirth, three of his siblings had died and no one knew the whereabouts of his father. When she returned to the orphanage three months after first seeing him, Madonna said the baby "had pneumonia, malaria and God knows what else" with no medicine to treat him.
"What was I prepared to do?" she asks in the film. "If I was challenging other people to open up their minds and their hearts then I had to stand at the front of the line. I decided to try and adopt him. The rest is history."
There is controversy behind that history. Critics accused the government of skirting laws that ban non-residents from adopting children in Malawi. David's father came forward, saying he had only placed the child in the orphanage temporarily, but he has since given approval for the adoption.
Rissman, who started working for Madonna as a research assistant several years ago, said he has made up to 10 trips to Malawi in the past two years to make the documentary, which had started with a vision by Madonna to shine a light on Malawi's problems but also offer people ways to help.

"If you are going to wake people up you have to show them what to do," Rissman said. "Our idea was to ... show them the desperate situation but to (also) show them the joy and then point them in the direction of the experts who can help facilitate this time of crisis."
Among those interviewed are former U.S. President Bill Clinton, Nobel Peace Prize winner Desmond Tutu, Paul Farmer of the Harvard Medical School and Jeffrey Sachs, director of the Earth Institute and special U.N. adviser.
"We decided to make this film to remind people how interconnected we are, to show that I have to be the best that I can be to help somebody in Malawi, in India ... in my own backyard," Rissman said. (source: Reuters via Yahoo)


24 April - Madonna saves the Belgian charts
Billboard revealed the new brand new #1 peaks for 4 Minutes in Belgium, perfectly coinciding with the eve of the Hard Candy album release date. 4 Minutes climbs to #1 in both Flanders and Wallonia, thus scoring 2 more #1 peaks in Europe, coming after Germany, Finland, Italy and UK!
Keep yourself updated with Madonna's chart performance on our chart news, chart runs and chart history pages!


24 April - Hard Candy review: Most floor fillers on one disc since her debut

When an early version of Candy Shop leaked last summer, Madonna deserved the benefit of the doubt, as every artist does when it comes to unreleased demos, particularly in the Internet age, when fans can gain access to failed experiments that should have never left the confines of a recording studio. But the inclusion of this virtually unchanged track, which is as catchy as a stomach virus and just as vile, on the singer's new album, Hard Candy, and the fact that Madonna reportedly wanted the song to be its first single, seemed to point to her seriously faltering instincts as not only an arbiter of what's hip but of good taste in general. Comparing oral sex to fine dining on 1992's Where Life Begins seemed daring, chic, and witty, but here she likens her clitoris to the front door of a confectionary and she wants us to know her sugar is "sticky and sweet" - all set to Pharrell's tired paint-can beats. The song is neither sexy nor campy, and somewhere, Dita is throwing her head back, laughing hysterically, and cracking her whip in disapproval.

For all the criticism she received at the time, there was an authenticity to Madonna's appropriation of black music and culture in the early '90s. House music and hip-hop were frequent bedfellows, and Erotica - with production work from Andre Betts and featuring, yes, Dita rapping without so much as a peep from the white rock press - is a testament to that. The notion that Madonna was somehow "selling out" with her next album, Bedtime Stories, was a dubious complaint considering she's an artist whose first goal was to rule the world and whose second was to maintain that reign (it's telling that the very first lyric of Hard Candy is "Say which flavor you like and I'll have it for you" - such an accommodating hostess!). And in hindsight, Bedtime Stories wasn't too far behind the curve; urban music, after all, was only just starting its own worldwide dominance in 1994.

If hip-hop seems like a put-on now, it's because her Madgesty has fashioned herself into a lady of the manor in the British countryside, and instead of bedding Dennis Rodman, she's making the bed for Guy Ritchie and three kids. Okay, so that might be a stretch, but she does fancy herself a domestic goddess. As with Bedtime Stories, though, the real issue isn't that Madonna is once again making "black music," but who she's making it with. There are myriad hip-hop producers out there who could have helped Madonna achieve a more urban sound (U.K. bassline artist T2 was at one point a rumored collaborator) while at the same time giving the project an underground edge (something for which even Madonna's biggest detractors would admit she has a knack), but she instead chose to hire two of the most ubiquitous hip-hop knob-twirlers - and I use that term figuratively, particularly for Timbaland - of the last decade.

The Neptunes-helmed Candy Shop is so disappointing, and Timbaland and Justin Timberlake's 4 Minutes such a blatant advertisement for the rest of the album, that it is with genuine surprise that I say that not only is the album palatable, but - and I apologize in advance for this and all subsequent but unavoidable candy metaphors - Pharrell delivers its tastiest morsels. Beat Goes On, the other track that leaked last year, has inexplicably lost its definite article but gained a Kanye guest spot and a flattering sonic facelift that transports it from 2001 to 1979. Disco (of both the purist late-'70s and more covert early-'80s electro varieties), it seems, provides Hard Candy with its juicy center while hip-hop merely serves as a crunchy shell. We caught a glimpse of the all-American, Detroit-reared, rebel spirit that made Ciccone a star at last month's Rock and Roll Hall of Fame induction ceremony, and though her rise to fame in the Big Apple didn't quite coincide with Studio 54's heyday, she sounds at home among all the disco strings, toots, beeps, whistles, handclaps, and Chic guitar licks of tracks like Beat Goes On and She's Not Me.

Pharrell makes his presence known a little too much, and the same kitchen-sink production approach that marred Gwen Stefani's "Wind It Up" rears its overzealous head on Incredible, but he also manages to get Madonna to stretch vocally in ways she hasn't since Evita. That is, when she's not doing cheeky drag queen impersonations, with trannie-fierce moments sprinkled liberally throughout Candy Shop ("My sugar is raw"), Heartbeat ("See my booty get down"), and Spanish Lesson ("Work!"). One of those moments ("Get stupid, don't stop it," from second single Give It 2 Me) is, well, just plain stupid, but stupidity is one of the album's main themes - and virtues. Heartbeat could have been sung by any number of anonymous female pop singers from the '80s... and that's exactly the point. After 25 years in the business, Madonna knows she's beyond informing the zeitgeist and she's more than content to mine her influences - not to mention her own catalog, giving nods to Into The Groove, Hung Up, and her work with William Orbit - while at the same time borrowing a page from one of today's biggest pop stars.

Madonna advises said pop star on the key to creative/sexual/calisthenic endurance on Dance 2Night, the second of two duets with Timberlake: "Are you a one-trick pony or do you want to keep runnin' this race?" The entire album is a self-declaration of Madonna's stamina, but it also reflects a woman who clearly feels like she's in a furious battle against time. Her legacy is already assured, so scoring another U.S. hit is just icing on the cake but she acts like she doesn't know it. With Pharrell providing the vintage party favors, Timbaland and Timberlake are the album's insurance policy; Miles Away, Devil Wouldn't Recognize You, and, of course, 4 Minutes, bear the pair's distinct, modern stamp, making Hard Candy more than just a throwback to Donna Summer, Anita Ward, and quaaludes.

In many ways, Hard Candy is the album Confessions on a Dance Floor was supposed to be, both in terms of musical style (despite the feathered hair and leotards, Confessions was more Eurotrash - and I use that term affectionately - than Eurodisco) and overall progression (French producer Mirwais' use of Autotune - years before T-Pain, thankyouverymuch - and glitchy synths was European, to be sure, but his heavy beats and use of acoustic guitars was patently American, to say nothing of Madonna's collaborations with Timbo cohort Missy Elliott, whose absence here hasn't gone unnoticed). Madonna hasn't delivered this many vapid floor fillers on one disc since her debut, and maybe not even then. Aside from a little careerism on the dance floor ("Give me a record and I'll break it," she dares on Give It 2 Me - okay, Mimi), there are few confessions here - nothing political, nothing too spiritual, no talk of fame, war, or the media. It's just what America ordered. (rating: 3,5/5 stars, by Slant Magazine)


24 April - For the time is near: Belgian/Dutch release
Tonight, the first copies of the Hard Candy disc will go on sale. Dutch fans are expected at the FAME store in Amsterdam for an official release party. Belgian fans can go to the Free Record Shop in Leuven, which welcomes fans and celebrities with cool Madonna gadgets and competitions, starting at 10pm. Mad-Eyes will be there too!
Belgian radio Donna is already premiering the album this afternoon, one track every hour. From their competition, they selected 20 die hard fans who tomorrow morning will have to fight for tickets to Madonna's showcase in Paris on May 6th. And fighting can be taken literally: they will have to tackle sportsman Tom Waes, who will be carrying the tickets on his body. We're sure those fans will go crazy!


23 April - Interview tonight on De Rode Loper
One of the journalists that interviewed Madonna in a Beverly Hills hotel in february was Ward Verrijcken, reporter of the Belgian VRT. He was one of the last ones to go in and the French journalist before him was sent out of the room after asking the wrong questions. Nervous as he was, he asked Madonna about her new single "4 Seconds"... to which she replied "4 MINUTES! 4 seconds would be very short to save the world!" ;-)
First part of the interview will be broadcast on celebrity gossip program De Rode Loper on Eén tonight at 18h10 CET (repeated at 23h45 CET).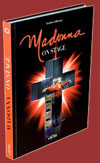 23 April - Win the exclusive tour book Madonna On Stage
Editions Why Not are presenting a brand new Madonna book, stacked with lots of info and beautiful pictures of all of Madonna's tours, from the Virgin Tour till the Confessions Tour. The book is available for pre-order but you still have one week left to win it with the Mad-Eyes competition. Quickly go to our competition page and participate! The winners will be announced in the first week of May. Good luck!



22 April - Win promo tickets with ICON competition
If you're a member of the official fanclub ICON, you can win tickets for the exclusive Hard Candy showcase in New York on April 30th and in Paris on May 6th. For a chance to win one of 50 pairs of tickets to one of these 2 shows, e-mail ICON a picture of yourself using the 'Hard Candy' theme as your inspiration. More info at ICON. Good luck!


22 April - Something to remember: She has climbed the tree of life
On the eve of the most anticipated release of the year, let's remember a Madonna album that celebrates its fifth anniversary today. American Life was released on April 22nd, 2003, and is an exceptional Madonna studio album in several ways. Not only it's arguably her least commercial effort, with an unusual mixture of electronic pop and acoustic guitar-driven folk, it's one of her most notorious releases. As we remembered 3 weeks ago, the lead-off single and video controversy pretty much ensured that the American Life album was virtually dead on arrival.
While it managed to reach #1 in many countries, it didn't have any legs and fell off the charts quite quickly, compared to her previous albums, and the follow-up singles were ignored. It was certified Platinum in many countries, but ended up being Madonna's worst selling studio album in many countries, especially in the USA, where it sold less than 700,000 copies. Worldwide sales are estimated between 3,5-4 million units, which is a far cry from the astonishing sales of predecessors Ray Of Light & Music. Unfortunately this was caused by the very personal, Kabbalah-inspired lyrics and unusual sounds of the album which could not click with the pop music lovers, and of course the video of the title track created some wrong assumptions about the theme of the album. The notable exception is France, where the album spent many weeks on the charts and can be labeled as a hit album (probably because the mastermind behind the record, Mirwais is French? ;-)
On the positive side, this album is regarded as a fan favourite by many. Since Madonna only used one collaborator for the production, American Life is easily Madonna's most cohesive record, and it gives a 50 minute long journey within Madonna's personal views of the American dream and the superficiality of Hollywood in particular (the opening triad of American Life, Hollywood & I'm So Stupid), her thoughts on fame (Nobody Knows Me), the challenges of family life in her past and present (Mother And Father, Intervention), her relationship with Guy (Love Profusion, Nothing Fails & X-Static Process) and her projections of her own career and role in this life (Die Another Day, Easy Ride). American Life, though largely ignored, stands as a remarkable chapter in Madonna's career and the pinnacle of a Madonna, who just wanted to get some answers but to celebrate life as well, accompanied only by an acoustic guitar. We'll always remember this vulnerable side of Madonna.


22 April - Hard Candy lyrics now available
You can now find the full lyrics of all Hard Candy tracks on Mad-Eyes! Check them here:
Candy Shop - 4 Minutes - Give It 2 Me - Heartbeat - Miles Away - She's Not me - Incredible - Beat Goes On - Dance 2Night - Spanish Lesson - Devil Wouldn't Recognize You - Voices


21 April - Hard Candy review: Super-producers fail to sink Madonna
For the past decade, Madonna's been impressing her own ideas on Mirwais Ahmadzaï, Stuart Price, and other dance producers that most of her fans had never heard of previously; on Hard Candy - which leaked in part over the weekend and in full this morning - she bends to the will of Pharrell Williams, Timbaland, and Justin Timberlake, three guys that everyone has been sick of for years. The results? Not bad!
Crotchy album cover and creepy video aside, Candy sounds less like a midlife crisis (than, say, Confessions On A Dance Floor) and more like something you'd actually listen to (than, say, Confessions On A Dance Floor). A couple Timberland/Timberlake tracks can grate (Devil Wouldn't Recognize You is practically a note-for-note rewrite of "What Goes Around.../...Comes Around"), but Pharrell's contributions are uniformly inspired, with his Candy Shop, Heartbeat, and the cowbell-enhanced Give It 2 Me being the album's most immediate highlights. On a first listen, this is way better than we expected. (source: New York Magazine)


21 April - Madonna claims UK singles crown
Madonna has gone to the top of the British singles chart, claiming the 13th UK number one of her career.
Her single 4 Minutes, featuring Justin Timberlake, knocked Estelle and Kanye West's American Boy into second place.
Madonna's number one, taken from her 11th album Hard Candy, comes 23 years after she first topped the UK chart.
On the album rundown, pop-rockers The Kooks went straight in at number one with their second album Konk, followed by Spirit by Leona Lewis at number two. (source: BBC News)


21 April - Hard Candy leaks online
After several tracks leaked online during the weekend, today the whole album has found its way onto the Internet. As a fansite, we don't encourage illegal downloads of full albums, so we won't be posting download links. The time is near, the CD is coming soon anyway! ;-)


21 April - Madonna's rundown on Hard Candy tracks


Who better to talk loyal Bizarre readers through a Madonna album than the Queen of Pop herself?
Madge has kindly given me a complete rundown on her forthcoming album Hard Candy.
This time round it has a seriously American angle, with hip-hop stars Timbaland, Pharrell Williams and pop king Justin Timberlake adding their influence.
Over to you, Madonna. You have 4 Minutes to tell it all in your own words.
4 Minutes :(The first single, which hit No1 yesterday on downloads alone. The CD is in store today). If you're paying attention to what's going on in the world – the Middle East, the (US) election, the environment, there's so much chaos and turmoil everywhere. Are you going to be part of the problem or part of the solution? But people also need to be cheered up. We also need to have fun and be given a sense of hope.
Candy Shop: This was the first song I wrote with Pharrell. It's one of my favourites on the record. It personifies the mood I was in making the record – lots of innuendo. You can get so many things in a candy shop!
Give It 2 Me: It's going to be a great song to do live. I can see the whole place jumping. It's the ultimate "Give me all you've got, don't try to stop me". And a great song to work out to.
Miles Away: This is the first song I wrote with Justin. It's definitely a song people in my business can relate to. All of us in the studio were like,

"Yeah, I get that".
She's Not Me: We were listening to a lot of Debbie Harry records. It's kind of Debbie Harry meets Gloria Gaynor I Will Survive. Pharrell came up with the hook so we concocted a story about the ultimate jilted lover.
Beat Goes On: Lucky for us, Kanye West was recording his album across the hall while we were making our record. We were also channelling Marvin Gaye and different artists from the past.
Incredible: There's a lot of angst in it and a lot of desire – wanting to recreate some feeling of happiness and fulfilment. But it's also about abandonment and having a good time. Pharrell was playing me all these songs from Baltimore. There's this sound coming out of Baltimore. He kept calling it The Be More.
Devil Wouldn't Recognize You and Voices: Both were written in the first chunk of time I had writing with Justin. Devil is a song about a person who everyone has in their life – a person who gets away with everything. Voices is about people playing mind games and who go on ego trips. The line, "Are you walking the dog or is the dog walking you?" ...it's like, who's in control here? These last two songs really make you think and there's something very orchestral and lush about them. We started out light with Candy Shop and ended in a thoughtful way with Voices. I think it was a good journey to go on.
Ta, Madge. Get your copy of Hard Candy, out next Monday. (source: The Sun)


21 April - Madonna to perform with Justin at Radio 1 gig?


Madonna and Justin are the surprise headline guests signed up for Radio 1's Big Weekend in May.
Justin told Radio 1 bosses earlier in the week that if Madge was up for it, so was he.
She signed on the dotted line on Friday, so he will be game to get involved too.
Madonna has driven a hard bargain, though.
She won't do any interviews and she'll be in and out of the festival faster than a beer down Chris Moyles' throat.
The full lineup for the Big Weekend will be announced today with Moyles kicking off the ticket rush on his breakfast show.
The mini-festival, in Maidstone on May 10 and 11, has become a big event in the music calendar.
Kasabian, Kaiser Chiefs and Scissor Sisters made last year's bash in Preston, Lancs, one to remember. (source: The Sun)
~ More info about the event in BBC news.


20 April - Madonna scores 13th UK #1!
The first single from Madonna's new album Hard Candy, 4 Minutes finally ascends to the top of the official UK singles chart, thus earning Madonna's 13th UK #1! Congratulations to Madonna and of course to Justin & Timbaland as well!

Madonna's UK #1 singles:

Into The Groove (1985)

Papa Don't Preach (1986)

True Blue (1986)

La Isla Bonita (1987)

Who's That Girl (1987)

Like A Prayer (1989)

Vogue (1990)

Frozen (1998)

American Pie (2000)

Music (2000)

Hung Up (2005)

Sorry (2006)

4 Minutes (2008)

~ For more chart news and predictions, check out our chart news page dedicated to 4 Minutes & Hard Candy.


20 April - Hard Candy review: The shameless idol still has much to give
Thanks to her henchmen, writes Ben Thompson, the shameless idol still has much to give

Hidden away at the end of Madonna's oft-derided 1992 album Erotica is a song called Secret Garden. Recorded before she'd popped out Lourdes, at a time when the wolves of artistic exhaustion and media overkill seemed to be snapping at her heels, it's a strikingly introspective and personal piece of work, which now has a prophetic lustre. While its lyrics map out previously uncharted emotional terrain, the musical backdrop prefigures the extent to which the best records Madonna was going to make in the coming decade and a half - Ray Of Light, Music and Hung Up, to name but three - would exceed the expectations anyone (even pop's iron lady herself) had a right to have of them.
At around the same time that she was penning this blueprint for the next phase of her career, Timbaland and Pharrell Williams were bandmates in their impeccably named high-school ensemble Surrounded by Idiots.
Given how ludicrously high a proportion of the past 10 years' finest hip hop and R&B artefacts have had one of these two men's names on them, there is a riveting historic inevitability about the idea of their irresistible forces colliding with Madonna's immovable object, just in time for her 50th birthday. The big question is, can the music these three have made together match or even surpass Madonna's collaborations with Jellybean Benitez, William Orbit or Stuart Price? The answer turns out to be a resounding 'yes' and 'no'.
As its title suggests, Hard Candy is a tough, nuggety confection offering plenty for listeners to get their teeth into. But from Candy Shop's routinely lascivious opening (memo from 50 Cent: 'Can I have my song back?') to the cod-symphonic quasi-closure of Devil Wouldn't Recognize You, the lion's share of this album constitutes a foil-fresh selection-box of variations on familiar themes. Even as Timbaland's trademark dense, booming clatter kick-starts the first single 4 Minutes, it's hard to escape the sense that all concerned are going through the motions - effortlessly, sometimes brilliantly - but going through the motions, none the less.
Whenever Hard Candy threatens to get boring, something always happens to recapture your interest, but the three songs in which Madonna actually seems to forge a genuine connection with her musical helpmeet leave the rest of the album in the shade. Each panel of this triptych involves Pharrell Williams. This partnership got off to a bad start with last year's grisly Live Earth dirge Hey You, but in the course of She's Not Me's blissfully heartfelt six minutes, it really hits its stride. 'She's not me/ She doesn't have my name,' Madonna reminds a partner who dares to look elsewhere, over a thrillingly off-kilter hurly-burly of whistles, handclaps and partially muted fade-outs. Incredible picks up the disco-fundamentalist baton and flies with it into an enchanted cloudscape of Eighties pop candyfloss, where the sun simultaneously orbits around Debbie Gibson and OMD. Then Spanish Lesson adopts a delightfully schoolmistressy tone which ultimately ends up being considerably less patronising than La Isla Bonita.
Listening to these three fantastic songs and then looking at the gynaecological cover shot, which - for all the self-consciously modern trappings of Hard Candy's coming into the world (pre-portioned up into Silvikrin adverts, mobile phone perks and Japanese TV theme tunes) - leaves people no choice but to describe this album as Madonna's 'latest waxing', the fulcrum of the delicate balance between her public and private selves is suddenly discernible. That photo's not a gross miscalculation; it's the picture of Dorian Gray in reverse.
Download: She's Not Me; Incredible; Spanish Lesson (rating: 4/5 stars, by The Observer)


19 April - Madonna seeks delay in Malawi adoption case
U.S. pop star Madonna has asked a Malawian court to delay a hearing to finalize her adoption of a boy from the southern African nation, a lawyer close to the case said.
The singer's law firm in Malawi filed an application requesting the High Court in Lilongwe to hear her adoption of David Banda on May 15 instead of April 22, as originally scheduled, the lawyer said, speaking on condition of anonymity.
Madonna's need to travel to the United States for business reasons was cited as the reason for the delay, the lawyer said.
Court officials refused to confirm the application.
"Adoption is a confidential matter and we separate adoption files from the regular case files," Thomson Ligowe, assistant registrar in the High Court, told Reuters.
Malawi's government recommended earlier this month that the court approve the adoption of Banda.
The pop diva met the boy in an orphanage in 2006 and began adoption proceedings soon after. He has been living with Madonna and her film director husband Guy Ritchie in London since shortly after the adoption process began.
The adoption has been controversial, with critics accusing the government of skirting laws that ban non-residents from adopting children in Malawi, one of the countries in Africa hardest hit by AIDS.
The epidemic has left an estimated one million orphans in the country. (source: Reuters via Yahoo)


19 April - Madonna responds to Miley Cirus' 4 Minutes
Material Girl cleans up her video set after 'Hannah Montana' star's online dance battle becomes a hit.
Though it stars two best friends goofing off in front of a webcam in a bedroom, "The Miley and Mandy Show" is not exactly your typical YouTube channel. And not just because it stars the country's highest-earning teen celeb, Miley Cyrus, and Mandy Jiroux, Miley's backup dancer on the Best of Both Worlds Tour. Their latest video, a high-flying dance video set to Madonna's 4 Minutes, appears to have prompted a YouTube response from the Material Girl herself.
The "Hannah Montana" star and her friend have been uploading a series of videos to the Web for the past two months, but none has garnered as much attention as last week's, which has received over a million hits since it was uploaded on Sunday.
In their new installment, the M&M Cru with a U - a name the pair came up with for the video - fight ninjas and take part in a well-choreographed dance battle with the crew from "Step Up 2: The Streets," which includes the film's director, John Chu, star Adam Sevani, and "Step Up" star Channing Tatum. There's even a cameo by Cyrus' grandmother.
Aspects of M&M's latest production resemble Madonna's 4 Minutes video, which features Justin Timberlake in an apocalyptic dance-off, but in an interview with E! News, Cyrus and Jiroux insisted that their version is not a spoof.
"We do, like, two moves Madonna has done in the past," Jiroux said, explaining that the video is a response to a challenge made by the "Step Up 2" crew.
"[Chu and Sevani] made a video first calling us out, and we made this video responding to theirs," Jiroux told E!. "M&M Cru definitely won."
Nevertheless, it seems to have caught Madge's attention, inspiring the pop icon to address those who've decided to re-create her new music video while she does a little "cleanup."
Not your typical cleaning lady, Madonna wears stiletto boots, a black dress and a long gold necklace as she vacuums what she says is the set of her new music video. Madge never actually says that her YouTube entry is a response to the Miley and Mandy creation, but she's not fooling us.
"All you people out there who are making videos to my new single, 4 Minutes, keep up the good work, nice job," she says in the video, before sternly offering some words of advice: "You've got to clean up after yourselves, all right? Because cleanliness is next to godliness." (source: MTV.com)


19 April - Madonna film lands distribution deal
Madonna's directorial debut has landed a distributor in North America and will hit cinemas in August (08).
The comedic drama, Filth and Wisdom, was co-written and co-produced by the ever-busy pop superstar, and it debuted at the Berlin Film Festival in Germany (Feb08) to mixed reviews.
Madonna initially considered releasing the film as a download via the iTunes website, but has now signed a deal with IFC Entertainment to land the project a U.S. cinema release.
The low-budget movie, about a Ukranian immigrant in London, stars rocker Eugene Hutz, his band Gogol Bordello and Richard E. Grant. (source: Contactmusic)


18 April - Hard Candy review: Madonna gets back into the groove with old-school dance CD
Nothing spiritual here! Madonna finally gets back into the groove with an old-school dance CD.

You've seen the video for 4 Minutes, Madonna's flirty duet with Justin Timberlake. Perhaps you've heard that roughly half of her new album, Hard Candy, was produced by the Neptunes, with the remainder entrusted to the team of Timbaland, Nate "Danja" Hills, and Timberlake. Maybe you know that Kanye West pops up on one song (Beat Goes On). Between the fountain-of-youth dalliances and hookups with hip-hop kingpins, we know what you're thinking: Just how massive is this midlife crisis of hers?

Pretty major, probably, but she makes it work with this surprisingly rejuvenated set. Now 49, Madonna has spent the last decade unevenly exploring moody trip-hop, chilly Eurodisco, and ethereal electronica-all of which are absent here. Candy finds her dropping her Kabbalah string on the dance floor and readopting an American accent to offer up an unpretentious, nonstop dance party. In tunes like Give it 2 Me, she's unabashedly reviving the celebrative spirit of early singles like Lucky Star and Holiday, filtering it through hip-hop's sonic boom. She's not above nicking from other carefree singers and eras, either. The giddy opening track, Candy Shop, has an easygoing synth hook that Jam & Lewis might've devised for Janet Jackson in her 80's prime, while the scrumptious deep bass of Dance 2Night gets closer to the thump of 70s disco than anything Madonna's ever done in or out of a leotard.

If you're looking for softness, of course, you've come to the wrong place. "Catch me on the floor/Working up a sweat/That's what the music's for," she asserts in Heartbeat, coming soon to a Pilates class near you. In the most exciting club banger, the aforementioned Give It 2 Me, she threatens, "When the lights go down and there's no one left, I can go on and on and on." Often willfully vapid, the lyrics offer candy as a metaphor for sex, sex as a metaphor for dancing, and dancing as a metaphor for world domination. In fact, there's so much perspiration-soaked determination that you may detect a slightly scary C+C Music Factory-meets-Ayn Rand vibe.

Offsetting the grind are a few actual confessions on this dance floor – enough to give the tabloids speculative fodder. "You always have the biggest heart/When we're six thousand miles apart," she complains in Miles Away. (There, the Timba-lake arrangements get a bit too close to "What Goes Around...Comes Around" for comfort.) In Incredible, a mini-masterpiece of domestic woe in which the Neptunes do their best work, Madonna recalls how spectacular the sex used to be, over a furious house beat. Then she makes a desperate plea for reconciliation: "I am missing my best friend...Let's finish what we started." With this crowd-pleaser of a CD, she may be sending a similar message to fans, too.

Grade: B+
Download this: Incredible
Backstory: Last summer Timbaland told MTV News he'd cut 10 tracks with Madonna, but only five made the album. He described one caffeinated lost track, La La, where "all these different names for coffee is the hook." We can only mourn the album that might have been: Coffee Shop. (source: Entertainment Weekly; thanx to Hector @ MadonnaNation)


18 April - Madonna won't put out free downloads
Pop superstar Madonna is refusing to copy Radiohead by releasing her next album as a free download - even though she is one of the best-selling artists of all time.
The Material Girl star admires the British rockers and their brave move to release their latest album In Rainbows as a digital download - allowing fans to choose their own price for the record.
But the 49-year-old isn't ready to have the public judge how much they should pay for her music just yet.
She says, "It is a cool idea but I am not sure if it works exactly. It is like a new world out there and people have to try a lot of things and make mistakes.
"Some things will work and some things will not, but it is kind of revolutionary and we are in that strange moment - the darkness before the dawn before we really know what is next.
"I don't know if I want to put my songs out there and ask other people what it is worth, but I am definitely ready to try new things."
Hard Candy, the singer's 11th studio LP, is slated for worldwide release later this month (Apr28). (source: Contactmusic)


18 April - Madonna to get millions for two gigs?
Madonna is reportedly finalising negotiations to play the most lucrative concerts of her career - receiving $24 million (GBP12 million) for two performances in the Middle East.
The pop superstar is said to be in talks to finish her forthcoming world tour with a gig in Dubai in November (08), for which she will be paid $15 million (GBP7.5 million).
On top of that, she has also been asked to perform at a private party, which will earn her another $5 million (GBP2.5 million).
A source tells British newspaper The Sun, "Madonna is about to break another record by playing the most lucrative concert of her whole career - or anyone's career for that matter.
"The negotiations for the tour to stop in Dubai in November are being finalised and she will get $15 million (GBP7.5 million) for the one show only." (source: Contactmusic)


18 April - Madonna tour rumours reach the press
It's been confirmed - there will be a full Madonna world tour this year and it'll wind up in an extravaganza at our own Wembley Stadium. Yay! The Queen of Pop, who's in final negotiations with event organisers to sort out dates, will play the first of the multi-million-pound gigs in September - one month after the she turns 50. However, there's still no sign of her slowing down. We're told the choreography on the shows - launched on the back of her stomping single 4 Minutes - will be more spectacular, demanding and physical than ever before. No getting off the gym then, Madge... (source: Mirror)
~ Keep in mind we still don't have any official confirmation, except Madonna last week confirming that she'd be touring this year at the end of the summer.


17 April - More album previews available
Yesterday's spoilers have been taken away already, but now you can preview the song intro's here.
UPDATE: These previews were taken down as well.



17 April - Special edition release postponed
The Belgian release of the special edition of Hard Candy has been postponed to May 9th. That means it won't be on sale on the release party on the 24th in Leuven.
Amazon is still listing it for April 29th.


17 April - Madonna's message from Give It 2 Me video set
Madonna has been filming her new video for Give It 2 Me in London, supposedly directed by Tom Munro (photographer of the Elle shoot) and left a message from the set for fans who make videos of her current single 4 Minutes and post them on Youtube. She encourages them to keep it up but reminds them not to forget to clean their mess after. Madonna looks very sexy and cool in this clip! You can watch the clip on our blog.


16 April - 4 Minutes on MTV's TRL
Madonna's 4 Minutes video has been added to MTV TRL's webpage.
If you want 4 Minutes to enter TRL's Top 10, just click here to access the page and vote.
TRL airs weekdays at 1:00 p.m. ET/PT.




16 April - I can get down on all fours
Check out a funny video message from Madonna to Perez Hilton.


16 April - ICON contest for I Am Because We Are premiere tickets
Madonna's Malawi documentary I Am Because We Are will premiere at the Tribeca Film Festival in New York on April 24. Fanclub ICON will give out tickets to 4 lucky winners. To participate, log into the Icon Board's forum at NOON/EST - 9.00AM/PST on April 17 for a chance to win a pair of tickets. All you will need to do is be the first to answer one of the two Madonna related questions to be asked in the 'I Am Because We Are' thread, which will be posted at Noon/EST 9.00AM/PST on April 17th. Good Luck to you all!


16 April - Preview all Hard Candy tracks
For those who can't wait another week anymore, you can now have a 30 second preview of every Hard Candy track on MusicLoad.
UPDATE: looks like that website got too many hits from Madonnafans, because Hard Candy has now been removed from their catalogue...


16 April - Donna to offer Paris promo tickets
Next Thursday, April 24th, Belgian Radio Donna will preview the Hard Candy album all day, by premiering a track every hour. They will also hold a competition to win two tickets to the promo gig in Paris on May 6th.
In other Belgian news: during the release party in Leuven, also on the 24th, it will be possible to buy the special edition of the album. Everyone who buys Hard Candy receives an exclusive Confessions Tour photo and a Hard Candy poster. Fanclub MadonnaNed will organise an exclusive contest where you can win 5 VIP treatments for 2 people that includes access to the VIP area, free champagne and food. Confirmed guest stars are Tanja Dexters, Hadise and Ellen Petri.


16 April - Poets vying for Madonna tickets
VH1.com says it is giving away tickets to a special New York show starring Madonna to two poets who pen the best four lines about the famed pop star. VH1.com began accepting submissions for its "4 Lines To See Madonna" promotion Tuesday. The contest challenges fans to compete for a pair of tickets to see Madonna perform at the Roseland Ballroom April 30, a day after the release of her new CD Hard Candy. Those who want to enter should visit the VH1 Blog at MadonnaTickets. VH1.com and submit their best four lines of poetry about Madonna, VH1 said. The network said submissions will be accepted on the VH1 Blog through April 24 and will be judged on creativity and originality. Two winners will be given a pair of tickets to attend the show, where Madonna will perform songs from her new CD. (source: UPI)