26 April - MTV On Stage and On the Record video
Go to the Hot Hot Hot section at MadonnaInter.net to download video files from Madonna's performance at MTV's On Stage and On the Record. And click here for a sample of her performance at Tower Records.

26 April - Madonna at VMA? *rumour*
Madonna is rumoured to appear at this year's MTV VMA on August 28th. MTV is said to be in talk with her for a possible performance. More on this as soon as we hear it.

26 April - Madonna tops list of 'Greatest Video Stars' on MTV
MTV's Internet audience has named Madonna the greatest music video star ever, according to a new special airing Saturday. Madonna's "innovation, creativity, and contribution to the music video art form" puts her at the top of the list during "The Greatest Video Stars" special airing at 1 p.m. Saturday on MTV, the channel said. The list of greatest video artists was determined through a recent poll conducted at www.mtv.com.
"The video has really become a marriage between the artist and our audience," says Michele Dix, senior vice president of music and talent programming at MTV and MTV2. The list, she says, includes "the broad entertainer" as well as "artists who were just there to make a video all their own." Madonna's lexicon of videos includes controversial works such as Like A Prayer, in which she dances in front of a burning cross; Justify My Love, involving sadomasochism; and What It Feels Like For A Girl, banned for its violent content. "Her ability to always intrigue the audience captives (viewers)," Dix says. "Her last video reinvented her in a cowgirl image. She is someone who is truly a sex symbol and she was (seen) in this cowboy attire with a hip-hop beat." The MTV online honor comes at a time when Madonna is having yet more video woes. She pulled her original video cut of American Life, her current single, because of its political imagery. In the original video, Madonna dances in a military uniform and throws a grenade in the lap of President Bush. Her new "performance" version has Madonna still in uniform but dancing in front of a collage of images.
The MTV list also names 1990s rock act Guns N Roses at No. 6, though the band has not had an active video on MTV in almost a decade. MTV viewers have a long memory, Dix says. "Those videos were epic," she says of the Guns N Roses inclusion. "You felt like you were watching a rock band in their real element." Artists are "taking making their videos as seriously as they do writing their lyrics," Dix says. Many are involved in finer details of the video
shoots these days. Five years ago, she says, artists weren't as involved in the video production, leaving many of the decisions up to record labels and marketing gurus. The poll include a wide range of music styles, from hard rockers
(Aerosmith, Limp Bizkit) to hip-hop (Eminem, Dr. Dre). MTV would not release an exact number of how many votes were cast. (source: Madonna Information report)

25 April - People Magazine article
Read the complete Madonna interview in People Magazine here.

25 April - Golden record auctioned for 6000 euro
Radio Donna ended their auction of the golden record with a bid of 6.000 euro! In two weeks the anonymous bidder will receive the record, personally signed by Madonna. The money will go to the Red Cross in Bagdad.
Meanwhile, Donna will give away a double ticket for Madonna's performance in Paris (on May 7th) to the fan who can present the best rap, in which he expresses his desire to see Madonna live in Paris. Good luck!

25 April - New Madonna book
In October 2001 we reported about the first Belgian Madonna book "Madonna: Stem van een Generatie" which was mostly about the Drowned World Tour. Right now, there's a sequel. "Madonna: Stem van een Generatie 2" talks more about the Drowned World Tour and continues with Swept Away, Die Another Day, Up For Grabs and of course American Life. The book (for now only available in Dutch) contains 48 pages and costs 14,82 euro. You can order here.

25 April - AL in the charts
Hot 100 position down 37-52 in its 5th week. Others:
* Hot 100 Airplay: Down 61-67 (3 weeks)
* Hot 100 Singles Sales; Down 2-3 (5 weeks)
* Top 40 Tracks: Down 32-34 (3 weeks)
* Top 40 Mainstream: Holds at 27* (4 weeks)
* Dance Music/Club-Play: 37-22* (2 weeks; previously reported)
(source: Madonna Information Report)
Meanwhile, it's doing better in other territories, with a #1 in Canada and Italy.

25 April - Shakira blasts Madonna as 'spineless'
Shakira has called Madonna "spineless" for axing the controversial anti-war video to new single American Life. She says the star should have stuck with the promo for American Life, rather than axing it weeks before its release because of the Iraq war. In the video Madonna dresses as a soldier and throws a grenade into George Bush's lap. She told fans she had withdrawn the video out of "sensitivity and respect" to the armed forces involved in the Iraq War. But Shakira said: "I'd expect a little more backbone from Madonna. Good pop music is always political in times of crisis." Shakira made a strong anti-war statement by projecting images of Saddam Hussein and Bush as puppets during her tour. But they lose control of the game and the puppeteer is revealed as the grim reaper. (source: Ananova)

25 April - Second part of Madonna Top 30 on Donna
Tonight at 7pm there's the second part of Donna's Madonna Top 30, including: Holiday, Borderline, Express Yourself, Die Another Day, Material Girl, Like A Virgin, Into The Groove, Papa Don't Preach, Beautiful Stranger, La Isla Bonita, Music, Ray Of Light, Like A Prayer and Vogue.
Meanwhile, the highest offer for the golden record stands at 2700 euro. Bids are still taken at www.donna.be.

24 April - MTV special on MTV Europe
MTV Europe will broadcast the Madonna special "On Stage & On The Record" tomorrow, friday:
"Tune in on Friday 25th at 15.00 for the exclusive premiere of "Madonna On Stage & On The Record", which marks Madonna's debut performance of songs from her new studio album American Life. This exclusive and intimate show was taped live from the MTV Times Square studios in New York City, and also includes an interview with the queen of pop, live questions from the audience, plus a sneak peak at more never-before-heard songs from "American Life". And as if that isn't enough you will also be treated throughout the weekend to her entire collection of chart success', from her 1983 debut, all the way through nearly two decades and over forty video releases to her latest offerings, as MTV goes Madonna Mad!"
The special will also re-air on:
MTV: Madonna On Stage and ON the Record: 04/25/03 01:00 PM Friday
MTV2: Madonna - The Definitive: 4/26 @ 1pm, Madonna "Extended Play" - 4/26 @ 3pm, 4/27 @ 9:30am & 11:00pm

24 April - First part of Madonna Top 30 on Donna
Belgian fans should tune in to radio Donna tonight at 7pm for the first part of the Madonna top 30, including following songs: Cherish, American Life, Bedtime Story, Crazy For You, Who's That Girl, Rain, Secret, Open Your Heart, Don't Tell Me, American Pie, This Used To Be My Playground, Live To Tell, The Power Of Good-Bye and Justify My Love. The evening playlist also contains Nothing Fails (around 8.30pm) and Hollywood (around 9.30pm).
Meanwhile, the radio station has begun their auction of a golden record, personally signed by Madonna. Right now (10.30am) someone offered 1200 euro for it, but I'm sure that price will rise still. The money will go to the Red Cross in Bagdad.

24 April - More nostalgia: Like A Virgin live!
Yesterday Madonna did an in-store performance in Tower Records in New York. While promoting her new album with the performance of 5 new songs, she went again down memory lane; this time it was Like A Virgin's turn. Who would've thought we'd ever hear that one live again? Here's a short report from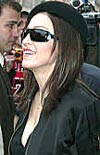 Madonna fan Daniel (from MadonnaMad forum):
The set list was:
- American Life (acoustic)
- Mother and Father (acoustic)
- X-Static Process (acoustic)
- Nothing Fails (acoustic)
- Like a Virgin (acoustic)
- Hollywood (plugged)
- American Life (plugged)
As for the signing M only did 120 (of those 50 were contest winners).... so of the 250 with wrist bands who waited only 70 got in... the final people did not get personalized signatures, only her name...
Words cannot express the energy of her performance and how much she interacted with the audience.
She said that Hollywood was a code word for the establishment.... and "fuck them all." She also said if you want to protest for peace in the world you should find it in your own life first.
The coolest thing was her saying "Thank you for making me feel like a star -- a star in the real sense. I really feel loved."
~ Many fans reportedly left upset and without autograph... Those who saw the performance note that the audience had to help Madonna with the Like A Virgin lyrics!!

23 April - MTV special: Madonna performs Like A Prayer!



Madonna (looking young & gorgeous with one of her now signature hats on) opened the show with a live performance of American Life! Madonna sounded amazing and even did the rap part perfectly! Throughout the special, Madonna went on to perform Hollywood, Nothing Fails & LIKE A PRAYER (With a choir)!
Madonna went on to answer some audience questions. Here are some of the things she discussed: On whether she was planning a greatest hits tour... to which she swiftly replied "NO"... When a fan asked what video she had most fun making, she joked Justify My Love... On what her favorite dance song of hers was, she answered Music!... When a fan asked her what her favorite book was, she answered "The Alchemist"... An audience member asked her if she felt that she had conquered the world... and while the audience screamed "yes", Madonna replied "No... There is a lot more to do"!... During a commercial break, Madonna told the audience that she wanted Nothing Fails to be the THIRD single!
Read the full MTV interview here. (source: Madonnarama)

22 April - USA Today review
There've been lots of contradictory reviews the past few days. Unfortunately, some critics just seem to hate Madonna whatever she does, and write a negative review about her rather than about her album. However, posting only the positive ones wouldn't exactly give a good representation. The following one by the USA Today is a nice one, and will be the last one we post. After all, it's now your turn to buy the album and judge yourself. You can always let us know what you think in our American Life polls.
"The naughty nymph who breached taboos in 1992's Sex book is back to expose herself again. Brace yourself. This philosophical striptease act is a true revelation. Aimed more at the head than the hips, American Life, which arrives in stores today, offers an all-access pass into Madonna's psyche. It's not a lurid undressing room but an offstage confessional where the intrepid diva jettisons her jet-setting lifestyle for a spiritual plane. Matter doesn't matter, the singer asserts over percolating dance beats in the crackling title track. She segues into a sassy rap inventory of star perks that define her material gains but failed to nourish her interior world. Throughout Life, Madonna is an earnest, sometimes strident disciple of humility and family values who rejects greed, revels in newfound serenity and spreads the gospel of goodness and gratitude. Though a scolding tone creeps in now and then, most of her denunciations are leveled at the success-obsessed Madonna of yore. Her pronouncements that lasting love trumps casual affairs and that the cult of celebrity beckons with false prophets (read: profits) are hardly noteworthy discoveries. But coming from a marketplace dominatrix with 20 years of attention-seeking sexploits, this Life takes a bold turn. Musically, Madonna's 10th album of original material builds on the disco structures of Music and Ray of Light, though with less mirror-ball flash. She again collaborates with French electronic master and Music partner Mirwais Ahmadzai, whose noisy stutters and Vocoder effects are less overtly techno this time. The insistent rhythmic base remains prominent, and much of the music is digitally diced and sliced, processed through computer programs and spewed forth in audacious blasts of rubbery bass lines and noise-scarred melodies. Madonna drives home the heady themes with minor chords, spare arrangements and alternating patches of rock grit and hushed acoustics. She plays guitar more than competently and sings with renewed discipline and clarity, applying her prettiest girlish vocals to gorgeous lullaby X-Static Process and billet-doux Love Profusion. The funkified synth-pop of Hollywood, lush Intervention and sonic perfection of Nobody Knows Me attest to her undiminished skills as a shrewd pop composer. More prayerful than playful, Madonna narrates her faith-based autobiography with style and sincerity, abandoning the devil-may-care treatment of religion that marked her Like a Prayer video and Blond Ambition tour. No doubt, cynics will see this self-effacing turnabout as a holy smokescreen for a midlife crisis. And detractors will dismiss Madonna's soul-searching as ego-tripping. It's more accurately a layover to unpack baggage." (source: USA Today)

22 April - Matt Lauer interview / Madonna on TRL?


Madonna's exclusive interview with Matt Lauer will be broadcast twice on NBC, first on "The Today Show" on April 22nd, then on "Dateline" on April 29th. The picture on the right shows Madonna performing Mother And Father live (photo courtesy of MadonnaCenter / Madonna's Ashram).
MTV's Carson Daly announced that Tuesday's TRL will play American Life and Madonna is rumoured to be doing a walk-on! In addition, Carson also said that more than 700,000 people listened to Madonna's CD on The Leak (source: Madonnarama)

22 April - American Life in stores now
The album was already available over the weekend in several countries, and is now worldwide available for purchase.

22 April - Tower Records appearance and performance
Madonna is doing an in-store appearance at the Tower Records on 4th and Broadway in New York City on Wednesday, April 23rd. She'll perform at 6pm, and then meet fans for an hour and a half. If you're thinking of getting there fifteen minutes early, think again. Rumor has it there might be an itsy bitsy line. (source: Madonna.com)
~ Don't bother for tickets anymore: only those few hundreds that were first in line yesterday and received their wristband, will be able to get in. Read a funny comment on this at the NY Times.

21 April - Some Madonna quotes
Here are some recent quotes from Madonna on her new album (thanx for The Missus for the translation):
On Che Guevara: "I did the Che Guevara cover because I felt kind of revolutionary at the time. And this picture is such a well-known symbol, everybody knows it..."
On Mirwais: "Mirwais is a very unique individual. His influence on me obviously was very big, he's a great musician and great guitar player. He can also program syntheshizers and create the most amazing futuristic sounds on the computer. He's a sort of genius, "experimenting and I'm lucky to be there."
On her guitar: "It's nice to know that I can just sit down with the guitar and I don't need anything else and I can be my own band" and can create my own music. There is something very intimate about this. When you first have this huge aparatus of light and moving stage elements and dancers and lots of drama and then all of a sudden all that comes to a halt and there's only one spotlight left, I sit on a stool and play guitar. There's something very simple and intimate about that and I like that. I like having that option as a performer."
On why X-Static Process is her favorite song: "X-Static Process is my favorite song because it's only me and my guitar and I sing my own harmonies. There's something about it that reminds me of my childhood. Just really simple."
On playing the guitar: "Well, it's just one more thing that you can do on stage. Of course you have to be much more exact when you play guitar and it was an additional fear factor on stage. On my last tour the hardest thing was to play guitar and hitting every note, getting it right."
On Mother And Father: "This song, Mother and Father, is about letting go of the pain caused my my mother's death. And at the same time not to use it [the pain] as an excuse for a certain behaviour: oh please feel sorry for me because I had to suffer so much pain, or: I am only doing this because I went through such a hard time. That's really bullshit. In the end you have to be responsible for your own actions. Towards my father I often pretended to be this rebel who doesn't care about anything, and I say whatever I want and do whatever I want. But that's not really true."
On being creative: "It's just like poetic magic. When I listen to music the songs just come. Now that I've learned to play the guitar I don't always depend on the help of other people. The ideas just come and I write them down. I also always carry a journal with me so when I'm going somewhere, in a car or on a plane I read in them and add things or cross things out and change things so that it's a constant sort of work in progress."
On the meanings of her songs: I'd rather just tell my stories in my songs and then let people feel about them what they want and they can draw their own conclusions and I'm not going to tell people: this is what it is, this is what you're supposed to think."

20 April - AL misses UK no. 1 spot
American Life is kept from this week's #1 spot on the UK charts by Room 5 and lands on #2. In Australia the single is at no. 7. And in the Billboard Dance Charts it climbs from #37 to #22.

20 April - Letterman cancelled
Madonna has cancelled her appearance on the Letterman show due to scheduling conflicts. (source: Madonnarama)

19 April - Madonna.com hacked
Some fans clearly don't agree with Madonna's anti-download policy: her official website got hacked today and replaced by a page with links to download the complete American Life album as well as some remixes.

18 April - Fake soundfiles to mislead downloaders
Sharing must not be part of Madonna's Kabala faith because she is clamping down something fierce on online peer-to-peer piracy of her new album, American Life, (due April 22). Her people are flooding file-sharing networks with decoy sound files, and those who download tracks from such services as KaZaA are greeted by the voice of Madonna asking, "What the f ---- do you think you're doing?" Other ways she's controlling the release of the "American Life": No advances are being sent to journalists; instead, in what has become a common practice, writers were asked to listen to the record at the office of Madonna's publicist. She's also not allowing her music to be rented out via subscription services like MusicNet, Pressplay and Rhapsody. (source: Seattlepi)

17 April - Madonna: sex in forties is 'better than ever'
Madonna has quashed rumours her marriage was in trouble and declared that sex in her forties was "better than ever". The singer said reports she was close to breaking up with Guy Ritchie were "absurd", explaining her love life had never been so good. "I'm a very passionate person, and when you really love someone, the sex and love is going to be great," the 44-year-old told People magazine. But Madonna said the marriage had proved very different to how she and Ritchie, 34, had expected when they tied the knot two years ago. "Guy and I have done a lot of growing up in the last few years and we understand that marriage is about having shared goals. "We have things we each want to do, but we're clear that the partnership comes first." The mother-of-two said she was not pregnant but acknowledged she would like to have more children.
She also explained why she pulled the controversial anti-war music video for her new album American Life following the outbreak of war with Iraq. "Children, brothers, wives and sons were over there and people at home were worrying about them. I'd be putting salt in their wounds." Madonna is expected to claim her 11th UK number one this weekend with American Life. (source: Ananova)

17 April - New AL video
The new video for American Life has premiered on VH1. It consist of the footage of Madonna as a general, but the flames in the background are replaced by international flags. And... that's pretty much it. While the original video had a very strong statement, this version lacks both a statement and a story. Personally I would've preferred that there was no video at all for the song, rather then this cheap attempt. Judge yourself.

17 April - AL review in NY Post
When they call Madonna the most savvy self- promoter in music, better believe it. This is a woman who never misses a trick. While the rest of music's movers and shakers fret that the 'Net is destroying their careers and profits, Madonna's gone digital - and like a musical cyberslut, she's giving away her latest album for free. She knows that what she gives she'll get back when the record goes on sale Tuesday. The precedent-setting alliance between the singer and MTV.com allows fans to hear every song - without being able to download it and keep the music. Madonna believes that once you hear it, you're going to buy it. She's right. The 11 tracks of American Life are musically varied and the lyrics rank among her most revealing. After listening to songs in which Madonna shows her insecurities, and her feelings about her parents and what love means, you feel you were allowed access into her private world. In the title track, she twirls the knobs and dials in a synthesized electropop arrangement. American Life is Madonna's autobiography. In it, she sweetly croons about living "the American life," where you're judged on what you've done, not who you are. Despite the controversy surrounding its video - in which a President Bush look-alike gets a hand grenade tossed into his lap (it turns out to be a cigarette lighter) - the lyrics are a blueprint for the great American Dream. Uncharacteristically, Madonna fattens the disc with power ballads. While there's nothing wrong with the guitar 'n' voice melody Love Profusion, it isn't terribly different from the strings 'n' things orchestration of Easy Ride or her modified Southern rock of Nothing Fails. The sleeper hit is X-Static Process, a simple lullaby that has a hymn-like arrangement and poetic lyrics about how you can't be complete without the ones you love. Here, too, is Madonna's James Bond song, Die Another Day. It ranks among the album's best, though 3-inch computer speakers don't do it justice. That's a small concession for getting to hear this disc a week before it's officially released. Too bad the flow's interrupted at least once every song with Madonna's muttering, "Hi, this is Madonna and you're listening to my new album, 'American Life.' " This is an excellent album musically, but more important, it's a ground-breaking concept where music lovers and the artist win. You have to ask yourself: Why isn't everybody doing this? (source: New York Post)

17 April - AL on the charts
American Life sold a poor 11,507 copies during its first week available in the US as a 2-track CD single. On next week's Billboard Hot 100 it jumps from #67 to #37. Meanwhile, it's looking like it might get to no. 1 in the UK. On Canada's sound scan chart the song made an impressive jump from #101 to #1!

17 April - Madonna wants life lessons in her children's books
Madonna's venture into children's books will see her writing morality tales based on Hebrew texts she is studying. The pop star has signed a deal to write five books that will be based on the Kabbalah religion, the first of which will be called The English Roses. Madonna said that she wanted to achieve something deeper than the "vapid and vacant" books that were available for young readers. She also said the idea of writing the books was suggested to her by a Kabbalah teacher and she originally planned to co-write them with husband Guy Ritchie. In an interview for music channel VH1, to be screened in the UK on Good Friday, she criticised children's books for not containing any life lessons. Madonna said: "I have a teacher I've been studying Kabbalah with for the last almost seven years now, and he's suggested that I write some children's stories based on a lot of things that I've learned in Kabbalah - so that's what I did." She said that husband Ritchie had got caught up writing scripts so the responsibility for writing the books fell solely to her. She added: "He did stay really involved - you know, he's my greatest critic. Whenever something gave him the retarded tingles, he was not shy about letting me know." The impetus for writing for children came after reading to her daughter Lourdes. "Now I'm starting to read to my son, but I couldn't believe how vapid and vacant and empty all the stories were," she said. "There were like no lessons, just all about princesses and like the beautiful prince arrives and he takes her for his wife and nothing happens, no efforts are made. "Nobody asks her what her opinion is, or I didn't see anybody struggling for things. There's like no books about anything." Speaking to Will & Grace actress Megan Mullally she also explained why she split her time between London and Los Angeles. "I find that people in Europe are much more interested in the quality of life, they're not so work-oriented," she said. "They're not willing to stay in the office 12 hours a day, they know how to enjoy life better. But Americans know how to get things done quicker." (source: BBC)

17 April - Madonna: "US is no celebrating democracy"
Madonna has been setting the record straight for the first time about the controversial video for her song American Life which she decided to withdraw. It was due for worldwide release last month but the Queen of Pop had second thoughts at the last minute. The four and a half minute video, which has yet to air in its entirety, apparently shows some uglier aspects of US culture including overweight dancers, war related imagery, sports utility vehicles and models wearing military fatigues, army helmets and gas masks at a fashion show. But it was the scene showing Madonna tossing a grenade at a George W Bush lookalike - who uses the grenade to light a cigar - that caused the most uproar.
Madonna said the video was filmed before the war in Iraq started and did not want it to be released because it may offend people who might misinterpret its meaning. But she accused people of judging the video before it was even released. She said: "Somebody was saying something like 'Oh, this is what's it about' and at that point, no one had had seen it and it just took a life of its own. "So suddenly, I was making this video that was horrible and full of horrible things and you know it was terribly irresponsible and meanwhile, nobody saw it and nobody knew what they were talking about. "You know, it's ironic we're fighting for democracy in Iraq because we ultimately aren't celebrating democracy here. "Because anybody who has anything to say against the war or against the President is punished and that's not democracy, it's people being intolerant. "Everyone is entitled to their opinion, for or against and that's what our constitutional rights are supposed to be - that we all have the freedom to express ourselves and to voice our (source: ITV)

16 April - Mad-Eyes reviews American Life
The majority

of fans probably has already heard the complete album, either through yesterday's leak, either through today's previews such as The Leak and other similar ones. However, I'd still like to share my own little review. Yes, I must admit I couldn't resist to the temptation yesterday evening to download most of the new songs and give them a first listen. But tonight I had the chance to attend the official Belgian preview listening party. Warner Belgium chose The Atomium in Brussels as location, and not without reason. The building, which represents the structure of an atom, as well as the Belgian provinces, does have a resemblance to the Kabbalah 'Tree of Life' which was used as symbol for the Drowned World Tour. In the top part of the building, overlooking Brussels by night, American Life bursted out of the speakers. For once, the title track couldn't be over soon enough, coz we knew there'd belesser known material waiting. And in fact, after hearing the album, one would wonder if American Life was a good choice as first single. Hollywood builds on the same theme but is maybe a bit more dancey. Intertwined with birds tweeting in the background, the music creates the ambiguous atmosphere in Hollywood, as described in the lyrics. It does sound like a good single, but with the third song, the album only got better. I'm So Stupid is the last one of the same-themed trilogy and has got a crazy hook! From the beginning it showcases the guitar work that is a basic ingredient of the album. It borrows some vocal effects from the Drowned World Tour (think Human Nature's seeeeeeeex). Once she gets into "pleeeeeeez don't try to tempt me" you just can't but start shaking along. This song got me hooked immediately. It also features that infamous 'stiff sound', with Madonna even going a bit raw-rock. From there, it calms down a bit, with Love Profusion starting as a sweet love song with acoustic guitar. But soon it's backed up by a nice beat as well. It's like I Deserve It getting into Don't Tell Me. Thumbs up to Mirwais, who doesn't only do great guitar work and producing, but also some backing vocals. He and Madonna take it a step further with Nobody Knows Me. If you thought Impressive Instant was experimental, then listen to this! Beware, I had to give it a few listens before appreciating it. It's not easy to catch the song, as it doesn't have a real structure, not even a chorus; it's quite chaotic. But a dance floor killer for sure; this is the song that'll get remixed for sure, even though it's probably not accessible enough to be a single. Contrary to Nothing Fails, that is rumoured to be the third single. And I hope Warner decides indeed to release this, because it's probably the best track of the album. Though backed up nicely by Mirwais' guitars and Colombier's strings, Madonna's voice comes out beautifully. This is something striking throughout the whole album; her voice isn't hidden in the music like in many of her songs. The songs on this albums can all perfectly be performed acoustically. Nothing Fails in particular I'd love to hear live. When the gospel choir kicks in, I had shivers down my spine. It's just breath-takingly beautiful! Intervention has the ungrateful place behind this masterpiece, but is a beautiful song in its own. It builds up slowly from an acoustic beginning to a great feel-good love song. Madonna gets more emotional as we move on to X-Static Process. Once rumoured as a successor for Impressive Instant, this turns out to be a downtempo acoustic track. Vulnerable but beautiful vocals backed up by a guitar, it can best be compared to an intimate campfire song. Madonna herself has also said this is her favorite song, because it shines from its simplicity. One would think that this build-up vulnerability goes on with a song as Mother And Father. But don't let the lyrics trick you: this is an uptempo dance song! Madonna's voice is high-pitched as if she's the little girl singing about her mum and dad. Again there's a catchy dance beat that kicks in, obliging you to get up and get into the groove. Mirwais gets out his beeps and bleeps, an gives the song another great hook. Madonna adds some more rap, though it works less well than with American Life. And the song ends abruptly. Which is another characteristic of the album: Madonna is not afraid to replace a simple fade-out by an abrupt ending. It's like with the choir in Nothing Fails, which disappears as quick as it came. Once you're used their presence, they're gone and leave you behind, yearning for more. A creative emptyness that is filled with Colombier's strings. Mother And Father didn't flow into Die Another Day, as some people said, but the Bond track does fit in between the rest. Personally, I was pleasantly surprised to hear that the album version is the same as the video version, so including Madonna's laugh and the long fade-out ending. Finally, the album closes with Easy Ride. On this nice album closer, a bit like Gone, Madonna sings about how she only wants a good life if she deserves it. Again building on the beauty of simplicity, the song is vunerable yet powerful. Colombier's strings get the last words on the album. To say that I was satisfied with the album would be an understatement. I was overwhelmed by it. When Music was released, I feared it wouldn't make the competition with its great predecessor Ray Of Light, but it did. Now I feared even more, with competition of BOTH Ray Of Light and Music! And again I'm pleasantly surprised to see Madonna has done it again! This album ROCKS!
Just to add: during the preview party, a new Madonna book was presented. "Madonna, De Stem van een Generatie 2" is the successor of "Madonna: De Stem van een Generatie" and talks about Madonna's accomplishments of the past two years, from the DWT, Up For Grabs, Die Another Day and Swept Away to American Life. There was also an announcement of a Belgian exhibition, coming later this year, celebrating Madonna 20th anniversary. More soon on Mad-Eyes. ~ Bartie

16 April - Madonna comments on new songs
About Hollywood: "This song is like a metaphor for me. It's the city of dreams and superficiality. It's the place where you forget about the really interesting things in life. In Hollywood you can loose your memory and your vision of the future. You can loose everything because you can loose yourself"
About X-Static Process: "Is my favourite song of the album because it's only me with my guitar and I sing all the melodies and the chorus. I don't know why, but this song reminds me of my childhood... it's a very simple song".
About Mother & Father: "It's a way to free me from the pain for my mother's death, but i'm not asking for a medal for finding my way in life or for compassing bor suffering so much. It isn't an excuse like"I'm like this because i've suffered so much when I was a child. These excuses are rubbish, because you have to be responsible of all the things you do in your whole life".
About the album: "I used to think that the American Dream was the posibility of arriving to NY with 35 bucks in my pocket and say "I'm going to be a huge success". It was for me like this. Thanks to this I've travelled so much I know that the people from USA have more things than other people in other countries and i'm gratefull for that. But, I also think that us, the people from USA, are involved in a wrong way of living: being attractive, having lots of money, giving a rich-and-famous image, or just being famous" (source: Los40, translated by Daniellillo)

16 April - Clear version of Like A Flower and You Thrill Me
Though all eyes are now pointed at American Life, we now have a clear version of the demo track Like A Flower, as well as a demo cut from the Erotica sessions, called You Thrill Me. (right-click; save target as)

16 April - New AL video premieres tomorrow on VH1
A newly created performance-only video for Madonna's American Life will see its world premiere tomorrow (April 16) at 10:30 p.m. ET/PT on VH1. The clip will air following the cable channel's special "Madonna Speaks," in which the artist discusses fame and the state of the world with actress Megan Mullally (NBC's "Will & Grace") and, in a separate interview, the decision to pull the original American Life video.
As previously reported, earlier this month Madonna canceled the release of the anti-war imagery-laden American Life clip to video outlets. She said in a statement that she did not want to risk offending anyone and did not want the video to be misinterpreted.
The title track from her Maverick/WB album American Life debuted at No. 4 on Billboard's Hot 100 Singles Sales chart and is No. 67 this week on the Hot 100. (source: Billboard)

16 April - Promo tour
We updated our calendar with all the dates of upcoming interviews and performances.

16 April - VH1 interview
Madonna sets the record straight for the first time about the withdrawn American Life video. The star also discusses her new album, her feelings on the current state of the world and her family in the VH1 special "Madonna Speaks," premiering Wednesday, April 16, at 10:00 p.m. (ET/PT). Immediately following, VH1 will have the exclusive U.S. premiere of a performance only version of the new American Life single at 10:30 p.m. (ET/PT).
The half-hour show includes her in-depth interview with Megan Mullally of TV's "Will & Grace" where the newfound pals cover a variety of topics rarely discussed publicly ranging from where she is now in her life to her views on fame, Hollywood and public opinion. Additionally, Madonna in a second interview, also shares with VH1 viewers her thoughts on the factors that led to her decision to pull the video.
Madonna's l0th studio album, American Life is scheduled to be released on April 22nd. Madonna will be appearing in a new episode of "Will & Grace" scheduled to air on April 24th. Here's a glimpse at what Madonna has to say:
Madonna on the theme of the first three songs on the album, American Life, Hollywood and I'm So Stupid -- "The first three songs on the album are me wanting to shout from the rooftops that we have all been living in a dream. I have been living in a dream -- and you're all living in a dream and we have to wake up to reality."
Madonna on the idea that freedom of expression has been compromised in America "... you know it's ironic we're fighting for democracy in Iraq because we ultimately aren't celebrating democracy here. Because anybody who has anything to say against the war or against the president or whatever -- is punished, and that's not democracy -- it's people being intolerant. And you know, everyone's entitled to their opinion, for or against and that's what our constitutional rights are supposed to be, that we all have the freedom to express ourselves and voice our dissent if we have that."
Madonna on what's truly important to her and what helped inspire American Life -- "I'm very successful, I've been in the business 20 years, I have lots of 'material' things and I've had lots of beliefs about things and what's important, and I look back at the 20 years behind me and I realized that a lot of things that I'd valued weren't important."
Madonna on seeing her personality reflected in her children -- "my daughter is very emotional, very passionate, very dramatic, she is that side of me... and then I see my son, and he's like a clown and he's funny and he's got this really irreverent, kind of cheeky sense of humor and he's that side..." (source: VH1, thanx to Madonna Information Report)

16 April - Madonna on MTV
Big News: A Leak You'll Like. Madonna's new album, American Life, comes out April 22nd. Because waiting sucks, MTV.com has agreed to stream the entire album as part of their new program "The Leak." American Life will be there from April 16th until April 22nd, the day you run out and buy it.

Big Big News: Madonna Speaks. You listen. You've heard all sorts of things about the American Life video. Now hear the truth. On Wed, April 16th, at 10:00 pm ET, VH1 will be airing "Madonna Speaks", an exclusive interview with Madonna discussing the video for American Life. The video itself will debut immediately afterwards, at 10:30 pm. This is not something you want to miss. Here's when to watch (all times are ET):

"Madonna Speaks" special followed by the American Life video:
Wed 4/16: DEBUT at 10:00 pm
Thu 4/17: 11:00 am, 6:00 pm, 10:30 pm
Fri 4/18: 3:30 pm

"Madonna Speaks" special only:
Sat 4/19: 12:30 pm, 3:30 pm, 10:00 pm
Sun 4/20: 10:00 am, 1:00 pm.

MTV2 is also featuring Madonna all weekend long. Some of the shows to look for April 18-20:
Madonna Videography
Breakfast With Madonna
Madonna: No Bull - The Making of Take A Bow
MTV2 Artist Collection: Madonna
MTV Ultra Sound: Inside Madonna
The Madonna Definitive: Viewer's Choice.

Excruciatingly Huge News: Madonna On Stage. You In Audience.
MTV will air "Madonna On Stage & On The Record" on Madonna Day (AKA Tuesday, April 22nd), at 10pm ET/PT. Madonna will perform songs from American Life for the first time ever, and answer questions from the live audience. The show, hosted by Carson Daly, will be taped live in New York in front of a very small, intimate crowd. You seem nice. Maybe you'd like to go? Enter to win tickets at madonna.com. This is a once in a lifetime event, kind of like being born. So don't miss it.

16 April - The album leaks
Last night, (most of) the album leaked onto the Internet. If you didn't get the chance to download the songs, or decided to wait until the official release, we can tell you to rest assured that this album ROCKS!! Myself, I'm going to a preview listening party tonight and will provide my own review soon. But from what I heard so far, I can tell you that I'm extremely excited about it!! :)