American Life
---
Album artwork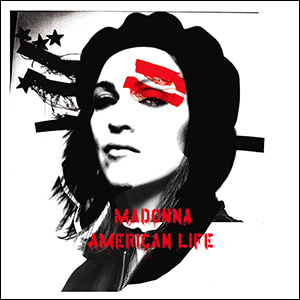 Album cover, shot by Craig McDean
Art work by Michael Amzalag

Album tracklist
Single releases
Outtakes & Demo tracks

Can't You See My Mind


Miss You


Set The Right


The Game

Album production & release
After her Drowned World Tour, two movie projects and a West End play, Madonna returned to the music scene with her album American Life. The writing and recording process took about 1,5 year, which had "a positive effect on the reflecting state of it", she says.
She collaborated again with Music producer Mirwais Ahmadzaï, who didn't only co-produce the album, but also plays guitar on several songs and even does some backing vocals for Love Profusion. Madonna also worked with some of her musicians from the Drowned World Tour; tour guitarist Monte Pittman co-wrote Easy Ride, while keyboard-player Stuart Price worked on X-Static Process. Tour choreographer Jamie King also assisted on the American Life video. For Nothing Fails, Madonna is backed up by the London Community Gospel Choir. But as said, Mirwais is the main collaborator, and the only producer on the album. This means that the album is more consistent than her previous albums, when she worked with several collaborators at the same time.
Though Madonna experiments with rap, she says the album is mainly a combination of electronic pop - which she experimented with on Ray Of Light and Music - and classical instruments, like acoustic guitars and strings. That's where string arranger Michel Colombier comes in. In contrast with the multi-layered Ray Of Light, this album is simple structured, and her vocals get priority over the instruments, much more than ever before.
Singles
The title-track was released as lead-off single early april. Madonna decided to put modern technology to her advantage: after Music and Die Another Day leaked onto the Internet, she thought it wise to put American Life online herself. The "digital single" [MP3] was available for purchase on her official website (only for American fans unfortunately) and was sent out on March 24th, while the single premiered on the radio worldwide the same day. On April 14th, the songs Love Profusion, X-Static Process and Mother And Father officially premiered on the websites of AOL, Launch and MSN, as part of the huge promo campaign. The CD itself was in stores on April 22, 2003.
Sales & Charts
The American Life album charted at #1 in 17 countries, including Belgium, Canada, France, Germany, Italy, UK and US. Despite the backlash the album got in the US, it was already certified Platinum early July 2003. It's also Platinum in Australia, Canada, France, Italy, Japan, Switzerland, Taiwan, and the UK.
Due to explicit lyrics, the album cover features a Parental Advisory sticker. There's also a censored version and a limited edition of the album.
While the single American Life was pretty successful in Europe and other territories, it got serious backlash in the US for its criticism on the country. Second single Hollywood was rush-released to forget American Life, with a video directed by Jean-Baptiste Mondino. But this second single suffered even more from the album backlash, and it didn't even feature on the Billboard Hot 100. In an attempt to put these failures behind, Madonna put the focus on her children's books, and meanwhile hit the charts again with her duet with Britney Me Against The Music. After that WBR released Love Profusion (with video) and Nothing Fails (without video). In some territories, they charted together as a double A-side single, while in other territories they were released separately in different formats (but mostly with both singles appearing on the disc). The Nothing Fails maxi-single was also boosted with bonus remixes of Nobody Knows Me, which resulted in both songs appearing in the dance charts.
Even though the album was - chartwise - considered a flop, Madonna broke a record by scoring 7 top 10 hits in the Hot Dance / Club Play chart from the same album: Die Another Day, American Life, Hollywood, Nothing Fails, Love Profusion, Nobody Knows Me and Mother And Father.
Worldwide sales of the album halted at around 4 milion copies.
In November 2003, Madonna also released the EP Remixed & Revisited, which contained several remixes of American Life tracks.
↑ Back to top of page