Ray Of Light
---
Album artwork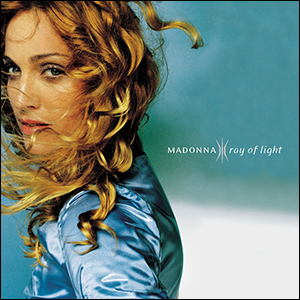 Album cover, shot by Mario Testino

Album tracklist
Single releases
Outtakes & Demo tracks

Alone Again


Has To Be


Gone Gone Gone


I'll Be Gone


Like A Flower


Never Love A Stranger


No Substitute For Love


Revenge


You'll Stay

Album release
Four years after her last studio album Bedtime Stories, Madonna surprised the world with Ray Of Light. This album, being her 13th album and 7th studio album, was released worldwide on February 27, 1998, except in the States where it was released on March 3rd. Most critics agreed on one thing: this was a new Madonna. The controversy surrounding the Sex book and the Erotica album had faded away. The once called Material Girl had gone all spiritual. Major reason for this change was the birth of daughter Lourdes on October 14th 1996, which brought Madonna's life into a whole new dimension.
"Having a child and questioning my own mortality and feeling incredibly responsible for someone else's life and being aware of how my behavior affects her - you have to step back and realize that we all affect each other".
Madonna expressed these feelings in her songs. Drowned World/Substitute For Love and Nothing Really Matters tell about how her daughter changed the meaning of her life, how all of a sudden she became the center of Madonna's world, instead of the lady herself. Little Star is more explicitly dedicated to Lola. The first lines of Mer Girl sum up a lot of Madonna's feelings too, especially her fears.
With all these new experiences and feelings, Madonna explored her spiritual horizons even further and turned to yoga and to the Kabbalah, a spiritual lifestyle. This resulted in another song Shanti/Ashtangi, which is sung entirely in Sanskrit. Madonna also wanted to limit the album to 13 songs, because 13 is a magical lucky number in the Kabbalah. A 14th track, the beautiful Has To Be was left off the album, but was included as a bonus track on the Asian/Australian release.
Album production
For the making of Ray Of Light, Madonna turned to several songwriters. In May 1997 she got together with Babyface. They came up with a couple of songs, that related a lot to the Bedtime Stories album. But Madonna never wants to repeat herself and abandoned the project. Then she turned to Rick Nowels, with whom she wrote three songs that would appear on the album: The Power Of Good-Bye, To Have And Not To Hold and Little Star. Madonna's longtime collaborator Patrick Leonard cowrote four other songs of the album. But Madonna was looking for a new sound, a new vibe. She found it when she met William Orbit, who would end up producing the album. In Sp!n magazine, Madonna explains:
"He would often give me tapes of snippets he was working on - 8-bar phrases, 16-bar phrases, stripped-down versions of what you hear on the record. And I'd listen to them over and over and it would inspire lyrics. I'd start writing a little bit and then I'd go back to William and say 'Okay, let's expand on this musical idea'. And as we expand on the music, I'd expand on the lyrics."
The whole recording process took about four and a half months, the longest ever for Madonna. But the result was stunning. If Like A Prayer is considered Madonna's milestone of the eighties, then Ray Of Light had launched itself immediately as the milestone of the nineties.
Sales & Charts
In the album charts, Ray Of Light debuted at #2 in the US and stayed there for two weeks, only the Titanic soundtrack kept it from the top spot. It did top the album charts in Australia, Canada, Germany and the UK. The album sold 15 million copies worldwide; 371.000 US copies in its first week. March 2000, it was certified 4 times Platinum in the US. In the UK it was recertified 6 times Platinum in January 2003.
Awards
At the 1999 Grammies, Ray Of Light got six nominations and it received four Grammies: 'Best Pop Album', 'Best Short Form Music Video', 'Best Recording Package' for Art Director Kevin Reagen and 'Best Dance Recording'. Madonna was also the big winner at the 1998 MTV Music Video Awards, winning 'Video of the Year', 'Best Female Video', 'Best Direction', 'Best Editing', 'Best Choreography', 'Best Special Effects', 'Best Dance Video' and 'Breakthrough Video', all for the videos of Ray Of Light and Frozen.
↑ Back to top of page