Shanghai Surprise
---
Movie artwork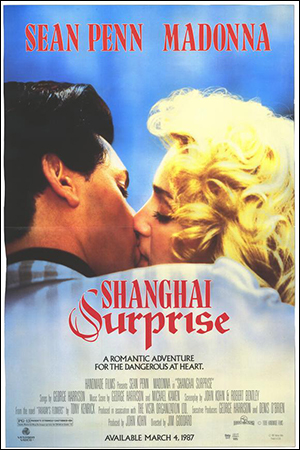 Pictures
Cast

Sean Penn: Glendon Wasey


Madonna: Gloria Tatlock


Paul Freeman: Walter Faraday


Richard Griffithse: Willie Tuttle


Philip Sayer: Justin Kronk


Clyde Kusatsu: Joe Go


Kay Tong Lim: Mei Gan


Sonserai Lee: China Doll


Victor Wong: Ho Chong


Professor Toru Tanaka: Yamagani San


Michael Aldridge: Mr. Burns


Sarah Lam: China Doll's maid


George She: Wu Ch'En She


Won Gam Bor: Rickshaw King


To Chee Kan: China Doll's Boatman
Movie synopsis
Glendon Wasey is a fortune hunter looking for a fast track out of China. Gloria Tatlock is a missionary nurse seeking the curing powers of opium for her patients. Fate sets them on a hectic, exotic, and even romantic quest for stolen drugs. But they are up against every thug and smuggler in Shangai. (source: IMDB)
Production info

Directed by: Jim Goddard


Written by: Tony Kenrick, John Kohn & Robert Bentley


Produced by: Robin Douet, George Harrison, John Kohn, Denis O'Brien, Sara Romilly


Production company: Handmade Films


Locations: Hong Kong, Macau, London (UK) & Portugal


Date of filming: Jan. - Feb. 1986


Budget: $ 17 million
Release info

Released as: Shanghai Surprise


Released in theatres: Aug. 26, 1986 (US)


Released on DVD: July 22, 2003 (US)


Runtime: 97 minutes


Genre: Romance/Comedy


MPAA rating: PG-13


Box office: $ 2.3 million (US)
Trivia

With Desperately Seeking Susan - her first big movie role - Madonna might have thought she started a good movie career. Her second movie however would turn out as one of the biggest flops in her career, and more in general one of the biggest flops in Hollywood. The poor profits of $ 2.3 million couldn't make up for the production costs of $ 17 million. Unfortunately it was rather this movie than Desperately Seeking Susan that reflected her future movie career. Only Swept Away did worst at the box office.
Soundtrack
Original Music by: George Harrison & Michael Kamen
The soundtrack doesn't contain any songs by Madonna.
↑ Back to top of page