Desperately Seeking Susan
---
Movie artwork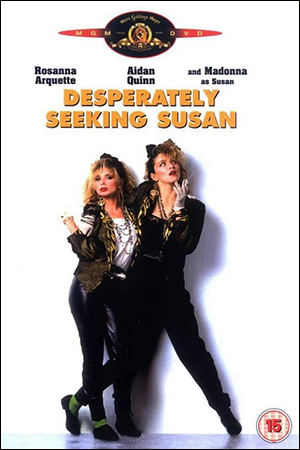 Pictures
Cast

Rosanna Arquette: Roberta Glass


Madonna: Susan


Aidan Quinn: Dez


Mark Blum: Gary Glass


Robert Joy: Jim


Laurie Metcalf: Leslie Glass


Anna Levine: Crystal


Will Patton: Wayne Nolan


Peter Maloney: Ian


Steven Wright: Larry Stillman D.D.S


John Turturro: Ray


Anne Carlisle: Victoria


Richard Hell: Bruce Meeker
Movie synopsis
Roberta is a housewife, bored with her life and feeling ignored by her hot tub-selling husband. The one thing that interests her is the excitement and romance she finds in following the relationship of Jim and Susan, who communicate through their travels using the personal ads. Susan is having her own fun when she sees the ad to meet Jim in NYC. Unfortunately, Susan is unaware that the last man she was with is entangled with the mob. So when Roberta shows up to actually see her idol, she takes it upon herself to emulate her. After a bout of amnesia, she is mistaken for Susan and must survive with Susan, Jim, her husband, and the mob - scrambling for the truth. Until Jims best friend comes to the rescue. (source: IMDB)
Production info

Directed by: Susan Seidelman


Written by: Leora Barish


Produced by: Michael Peyser, Sarah Pillsbury & Midge Sanford


Production company: Orion Pictures


Location: NY (US)


Date of filming: Sept. 1984


Budget: $ 4.5 million
Release info

Released as: Desperately Seeking Susan


Released in theatres: March 29, 1985 (US)


Released on DVD: June 13, 2000 (US); Aug. 14, 2000 (Eur.)


Runtime: 104 minutes


Genre: Comedy/Romance


MPAA rating: PG-13


Box office: $ 27.4 million (US)
Trivia

Madonna was trying to lose weight, or rather not to gain any. So when the script called for her to be eating, she'd spit out the food at the end of the take!


The orange baseball jersey that Susan wears after her clothes have been stolen, sports the letters MC. These are of course Madonna Ciccone's initials.


Rosanna Arquette was reportedly complaining that Madonna got all the attention instead of her, who had the leading role.
Awards
1986 BAFTA Awards:


Award for 'Best Actress in a Supporting Role' (Rosanna Arquette)
1986 Golden Globe Awards:


Nomination for 'Best Performance by an Actress in a Motion Picture - Comedy/Musical' (Rosanna Arquette)
1986 Casting Society of America Awards:


Nomination for 'Best Casting for Feature Film, Comedy' (Risa Bramon Garcia & Billy Hopkins)
1986 César Awards:


Nomination for 'Best Foreign Film'
Soundtrack

Original Music by: Thomas Newman. This soundtrack contains only instrumental songs. Madonna's successful theme song Into The Groove was not included in the movie's soundtrack. Instead it appeared on the re-issue of the Like A Virgin album.
↑ Back to top of page