Madame X Tour
---
Tour poster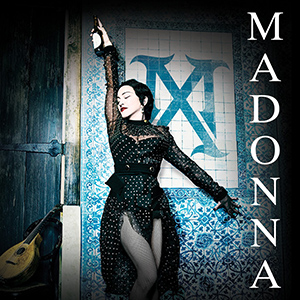 → Tour announcement video
→ Official tour announcement with first US dates
Galleries


Tour book


Tour pictures North America: New York City - Chicago - San Francisco - Las Vegas - Los Angeles - Philadelphia - Miami


Tour pictures Europe: Lisbon - London - Paris
Tour schedule
The theater tour played in only 7 cities across North America and 3 in Europe. It featured multiple nights of shows in each city. The tour kicked off in New York City on September 17, 2019. After a mini residency of 16 nights, the tour visited Chicago, San Francisco, Las Vegas, Los Angeles, Philadelphia, to end in Miami before Christmas. The European leg kicked off in Lisbon in January 2020, followed by tour dates in London and Paris.
The tour was plagued by issues from the start. Firstly, there were planning issues and technical issues, resulting in a later start of the tour, several reschedulings and a few cancellations.
Secondly, Madonna suffered from a serious injury, after a fall during rehearsals. This caused 5 dates in the US to be cancelled (including all 3 Boston dates), and 9 shows in Europe. Thirdly, the final two dates of the tour were forced to be cancelled amid the health crisis caused by the Corona Covid19 virus.
The tour ended on March 8, 2020 with 75 shows performed (out of 93 originally scheduled).
→ Check out the full tour schedule and tour grosses here.
Tour setlist
The show put a strong emphasis on the new album, with no less than 12 Madame X songs in the setlist. Several older songs were cut short to only a verse or chorus. Madonna also included some Fado songs that inspired her for the album. She took advantage of the intimate setting to have several interactions with the audience throughout the show.
→ Check out the full setlist here.
Tour diary & reviews
Read reports from specific tour nights, and watch short video clips from the shows.

→ Europe (2020)
Check out some of the press reviews to get an impression of the critical reception of the tour.

→ North America (2019)
→ Europe (2020)
Tour crew & collaborators
For the Madame X Tour, Madonna hired many musicians, performers and crew members from previous tours, as well as people she met during the recording of the Madame X album. The Batukadeiras joined her on stage, as well as the young guitarist Gaspar Varela, great-grandson of fado singer Celeste Rodrigues. Belgian choreographer and creative adviser Damien Jalet worked on several tour concepts, including the opening act and the wonderful Frozen.
→ Check out the full crew here.
Tour recording

The shows in Lisbon, Portugal were recorded by Ricardo Gomes and SKNX. The concept film premiered on October 8, 2021 on the streaming platform Paramount+. In territories without Paramount+, the show was broadcast by MTV. A live album titled "Madame X - Music From the Theater Experience" with all 20 songs of the show, is also available on streaming music platforms.
↑ Back to top of page