Who's That Girl
---
Movie artwork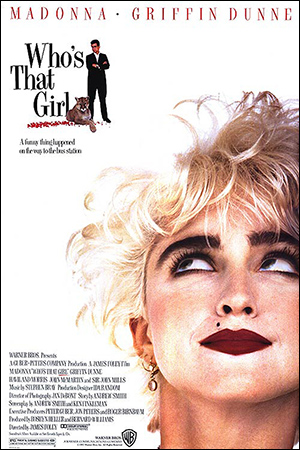 Pictures
Cast

Madonna: Nicole 'Nikki' Finn


Griffin Dunne: Louden Trott


Haviland Morris: Wendy Worthington


John McMartin: Simon Worthington


Bibi Besch: Mrs. Worthington


John Mills: Montgomery Bell


Robert Swan: Detective Bellson


Drew Pillsbury: Detective Doyle


Coati Mundi: Raoul


Dennis Burkley: Benny


James Dietz: Buck
Movie synopsis
Louden Trott (Griffin Dunne) is a simple lawyer on the verve of marrying rich Wendy Worthington. His soon-to-be father-in-law asks him a favour: to put ex-con Nikki Finn (Madonna) on the bus to Philadelphia. This task seems harder than expected, as Nikki turns out to be a real pain-in-the-ass. Serving 4 years in jail for a crime she didn't commit, she's out for revenge and takes Louden along on her trip to find the evidence to clear her name. The highly organised middle class guy has no choice but to follow this crazy girl, and eventually they find out that what they're looking for, is something they both needed to know...
Production info

US working title: Slammer


Directed by: James Foley


Written by: Andrew Smith & Ken Finkleman


Produced by: Roger Birnbaum, Peter Guber, Rosilyn Heller, Jon Peters, Andrew Smith, Bernard Williams, Bernie Williams


Production company: Warner Bros


Locations: LA & NY (US)


Date of filming: Nov. 1986 - 1987
Release info

Released as: Who's That Girl


Released in theatres: Aug. 7, 1987 (US)


Released on DVD: Feb. 14, 2006 (US) / March 20, 2006 (UK)


Runtime: 92 minutes


Genre: Comedy


MPAA rating: PG


Box office: $ 7.3 million (US)
Trivia

The original title was 'Slammer', but Madonna had difficulties writing a matching title song.


This movie is loosely based on the screwball comedy classic Bringing Up Baby from 1938.
Awards
1988 ASCAP Awards:


Award for 'Most Performed Songs from Motion Pictures' (Who's That Girl)

1988 Golden Globe Awards:


Nomination for 'Best Original Song - Motion Picture' (Who's That Girl)


Soundtrack


The movie soundtrack contains four songs by Madonna. Read more in our Discography section.
↑ Back to top of page