The Next Best Thing
---
Movie artwork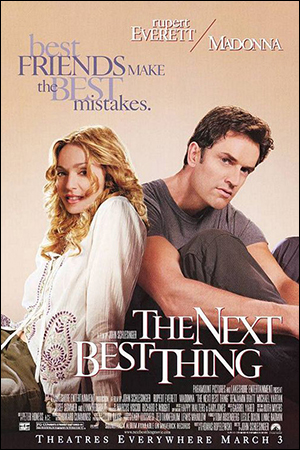 Pictures
Cast

Madonna: Abbie Reynolds


Rupert Everett: Robert Whittaker


Benjamin Bratt: Ben Cooper


Illeana Douglas: Elizabeth Ryder


Michael Vartan: Kevin Lasater


Josef Sommer: Richard Whittaker


Malcolm Stumpf: Sam


Lynn Redgrave: Helen Whittaker


Neil Patrick Harris: David


Mark Valley: Cardiologist


Suzanne Krull: Annabel


Stacy Edwards: Finn


John Carroll Lynch: Abbie's Lawyer


Fran Bennett: Judge Tracey Bennett


Ricki Lopez: Angel


Ramiro Fabian: Flavio


Tiffany Paulsen: Young Mother


Joan Axelrod: Bel Air Matron


George Axelrod: Bel Air Man


Jack Betts: Vernon


William Mesnik: Ashby


Irene Roseen: Lena


Gavin Lambert: Ricky
Movie synopsis
Abbie (Madonna) is in her thirties and unlucky in love. When she sees another boyfriend walking out the door, she decides to get drunk with her best gay friend Robert (Rupert Everett). Soon it turns out that their party night has some sonsequences: Abbie is expecting Robert's child. They decide to raise the child together, as friends. All is going well, until Abbie starts dating Ben (Benjamin Bratt). The once so warm friendship between Abbie and Robert cools down, as they meet in court for a heavy custody battle...
Production info

US working title: The Red Curtain


Directed by: John Schlesinger


Screenplay written by: Tom Ropelewski, Leslie Dixon, Mel Bordeaux, Rupert Everett


Produced by: Leslie Dixon, Linne Radmin, Tom Rosenberg


Distributed by: Paramount Pictures


Location: LA


Date of filming: April 1999


Budget: $ 25 million
Release info

Released as: The Next Best Thing


Released in theatres: March 3, 2000 (Worldwide)


Released on DVD: Aug. 29, 2000 (US)


Runtime: 108 minutes


Genre: Comedy/Drama


MPAA rating: PG-13 for mature thematic elements, sexual content, partial nudity and language.


Box office: $ 15 million (US) / £ 662,000 (UK)
Trivia

On the set, Rupert Everett suggested to Madonna that she'd record her own version of American Pie, the song that's sung during the funeral in the movie. After he had her convinced, he agreed to do backing vocals for the track.
Awards
2001 GLAAD Media Award:


Nomination for 'Outstanding Film'
2000 YoungStar Award:


Nomination for 'Best Young Actor/Performance in a Motion Picture Comedy' (Malcolm Stumpf)
Soundtrack


The movie soundtrack contains two songs by Madonna. Read more in our Discography section.
↑ Back to top of page