Secret Project Revolution
---
Movie artwork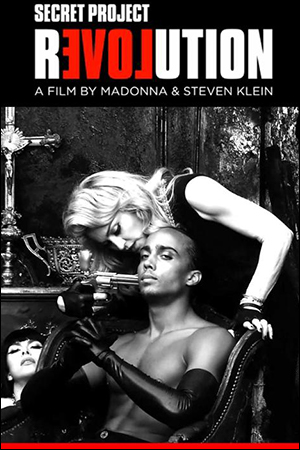 Pictures
Cast

Madonna: Killer / Prisoner


Adrien Galo: Dancer / Prisoner


Brahim Zaibat: Dancer


Chaz Buzan: Dancer


Loic Mabanza: Dancer


Marvin Gofin: Dancer
Movie info
Madonna and Steven Klein made this art project in 2013 to make a political statement. They incorporated parts of speeches Madonna had given on her 2012 MDNA Tour. Several dancers from that tour played in the shortfilm too.
Production info

Directed by: Steven Klein, Madonna


Written by: Steven Klein, Madonna


Produced by: Steven Klein, Madonna


Production company: Vice Films


Location: Buenos Aires (Argentina)


Date of filming: Dec. 2012
Release info

Released as: Secret Project Revolution


Release date: Sep. 23, 2013


Runtime: 17 min.


Genre: Short


Official Site: Art For Freedom
Trivia

The shortfilm premiered on Sep. 23, 2013 on large outdoor screens in New York, Los Angeles, Toronto, Berlin and London. The next day, outdoor screenings followed in Chicago, San Francisco, Rome, Paris and Tel Aviv. The locations were announced shortly in advance, so most spectators were passers-by and lucky fans.


Madonna made a personal appearance during a screening at New York's Gagosian Gallery, where she performed Elliott Smith's Between the Bars, with her son Rocco as dancer.


Secret Project Revolution served as an appeal to artists and fans to express their fight for freedom in art. Over the following months, several entries of Art For Freedom were rewarded with a $10,000 grant by Madonna and a monthly guest curator. Among the guest curators were Katy Perry, David Blaine, and Miley Cyrus.
Soundtrack
The film borrows music from Madonna's movie W.E., written by Abel Korzeniowski.
↑ Back to top of page