Die Another Day
---
Movie artwork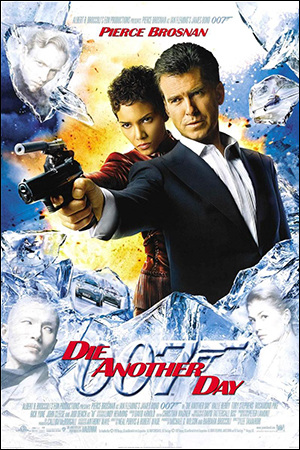 Pictures
Cast

Pierce Brosnan: James Bond


Halle Berry: Jinx


Toby Stephens: Gustav Graves


Rosamund Pike: Miranda Frost


Rick Yune: Zao


John Cleese: Q


Judi Dench: M


Michael Madsen: Damian Falco


Will Yun Lee: Colonel Moon


Samantha Bond: Miss Moneypenny


Colin Salmon: Charles Robinson


Lawrence Makoare: Mr. Kil


Emilio Echevarría: Raoul


Rachel Grant: Peaceful


Anna Edwards: Scorpion Girl


Kenneth Tsang: General Moon


Mikhail Gorevoy: Vladamir Popov


Simón Andreu: Dr. Alvarez


Ho Yi: Mr. Chang


Madonna: Verity
Movie info
As Madonna was singing the theme song of this Bond movie, she was offered a small cameo in the film. She plays the role of Verity, a role often described as a "filthy lesbian dominatrix fencing instructor". Rumour has it that Madonna asked that, since the character wouldn't be a Bond girl, if she could be lesbian instead (though there are only a few very subtle hints to her sexuality).
Movie synopsis
One of North Koreans most feared generals is developing a powerful weapon to invade the South. Bond (Pierce Brosnan)'s mission leads him from the North Korean dungeons, over Hong Kong and Cuba, to Iceland. Millionaire Gustav Graves (Toby Stephens) invites him there for a spectacular presentation in the Ice Palace. Surrounded by two beautiful Bond girls (Halle Berry and Rosamund Pike), Bond tries to unravel the mystery and destroy the weapon that threatens South Korea.
Production info

US working title: Bond 20 / Beneath The Ice


Directed by: Lee Tamahori


Screenplay written by: Neal Purvis & Robert Wade


Produced by: Barbara Broccoli, Michael G. Wilson, Callum McDougall & Anthony Waye


Production company: MGM


Locations: Finland, Iceland, Maui, Scotland, South Korea, Spain and UK


Date of filming: 14 Jan. 2002 - July 2002


Budget: $ 142 million
Release info

Released as: Die Another Day


Released in theatres: Nov. 22, 2002


Released on DVD: May 5, 2003 (Eur.) / June 3, 2003 (US)


Runtime: 132 minutes


Genre: Action


MPAA rating: Rated PG-13 for action violence and sexuality.


Box office: $ 156.2 million (US) / £ 34.8 million (UK)
Trivia

Never afraid to show her appreciation to her gay fanbase, Madonna reported to be proud to be the first lesbian Bond girl.
Awards
2003 Golden Globe Awards:


Nomination for Best Original Song (Die Another Day)
2003 Satellite Awards:


Nomination for Best Original Song (Die Another Day)
2003 MTV Video Music Awards:


Nomination for Best Video From A Film (Die Another Day)
Soundtrack

Original Music by: David Arnold
Madonna sings the title track Die Another Day.
↑ Back to top of page