Dangerous Game
---
Movie artwork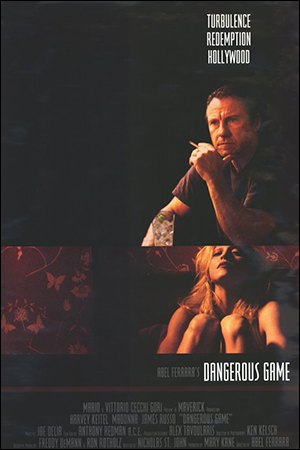 Pictures
Cast

Harvey Keitel: Eddie Israel


Madonna: Sarah Jennings


James Russo: Francis Burns


Nancy Ferrara: Madlyn Israel


Reilly Murphy: Tommy


Victor Argo: Director of Photography


Leonard L. Thomas: Prop Guy


Kristina Fulton: Blonde (as Christina Fulton)


Heather Bracken: Stewardess


Glenn Plummer: Burns' Buddy


Niki Munroe: Girl in Trailer


Lori Eastside: Party Guest


John Snyder: Party Guest


Adina Winston: Party Guest


Dylan Hundley: Party Guest
Movie synopsis
Eddie Israel is a moviemaker. He is beginning the shooting of "The mother of mirrors", starring Francis Burns and Sarah Jennings. "The mother of mirrors" is the story of the last night of a couple falling into decay. Eddie is very demanding with the actors, and the heavy atmosphere of the film acts upon the daily life of the protagonists.
Production info

US working title: Snake Eyes


Directed by: Abel Ferrara


Written by: Nicholas St. John


Produced by: Freddy De Mann, Mary Kane, Ron Rotholz


Production company: Maverick Picture Company


Locations: LA & NY (US)


Date of filming: February 1993
Release info

Released as: Dangerous Game


Released in theatres: November 19th, 1993 (US)


Released on DVD: April 30th, 2001 (Europe) / July 26th, 2005 (US)


Runtime: 108 minutes


Genre: Drama


MPAA rating: R


Box office: $ 72,500 (US)
Trivia

Madonna on the film: "Even though it's a shit movie and I hate it, I am good in it." She also expressed her disappointment regarding the final cut of the film, claiming that the director had cut many key scenes featuring herself, with completely changing the ending of the film.
Soundtrack
Original Music by: Joe Delia
The soundtrack doesn't contain any songs by Madonna.
↑ Back to top of page