Blue In The Face
---
Movie artwork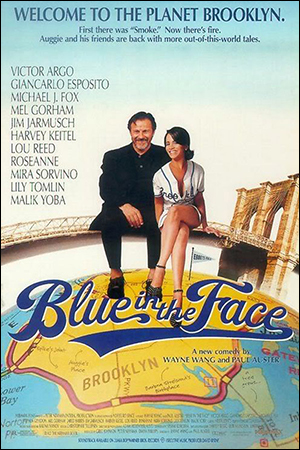 Pictures
Cast

Lou Reed: Man with Strange Glasses


Michael J. Fox: Pete Maloney


Roseanne: Vinnie's Wife


Mel Gorham: Violetta


Jim Jarmusch: Bob


Lily Tomlin: The waffle eater


Jared Harris: Jimmy Rose


Giancarlo Esposito: Tommy Finelli


Malik Yoba: The Watch Man


José Zúñiga: Jerry


Victor Argo: Vinnie


Stephen Gevedon: Dennis


Madonna: Singing Telegram


Sharif Rashed: Purse Snatcher


Mira Sorvino: The young lady


Keith David: Jackie Robinson


Peggy Gormley: Waitress


Harvey Keitel: Auggie Wren
Movie synopsis
Wayne Wang's follow-up movie to Smoke presents a series of improvisational situations strung together to form a pastiche of Brooklyn's diverse ethnicity, offbeat humor, and essential humanity. Many of the same characters inhabiting Auggie Wren's Brooklyn Cigar Store in Smoke return here to expound on their philosophy of smoking, relationships, baseball, New York, and Belgian Waffles. Most of all, this is a movie about living life, off-the-cuff.
Production info

Directed by: Paul Auster & Wayne Wang


Written by: Paul Auster & Wayne Wang


Produced by: Francey Grace, Greg Johnson, Harvey Keitel, Hisami Kuroiwa, Peter Newman, Diana Phillips, Bob Weinstein & Harvey Weinstein


Production company: Miramax Films


Location: NY


Date of filming: July 1994


Budget: $ 2 million
Release info

Released as: Blue In The Face


Released in theatres: Oct. 13, 1995 (US)


Released on DVD: March 4, 1999 (Eur.) / May 25, 2003 (US)


Runtime: 80 minutes


Genre: Comedy


MPAA rating: R


Box office: $ 1.3 million (US)
Awards
1995 Stockholm Film Festival:


Nomination for Bronze Horse
1996 American Comedy Awards:


Nomination for 'Funniest Supporting Actress in a Motion Picture' (Lily Tomlin)
Soundtrack
Original Music by: John Lurie, Billy Martin & Calvin Weston
The soundtrack doesn't contain any songs by Madonna. Mel Gorham does a rendition of Fever which was also covered by Madonna a few years earlier.
↑ Back to top of page