Arthur and the Minimoys
---
Movie artwork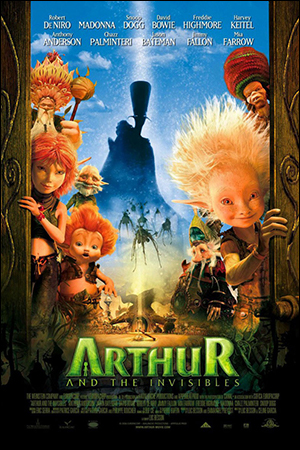 Pictures
Cast

Freddie Highmore: Arthur


Madonna: Princess Selenia (voice English version)


Mylène Farmer: Princess Selenia (voice French version)


Toinette Laquière: Princess Selenia (body capture)


David Bowie: Maltazard (voice English version)


Snoop Dogg: Max (voice English version)


Mia Farrow: Arthur's mother
Movie info
This animation movie was made around the same time the French director Luc Besson directed the music video for Love Profusion. He asked Madonna to voice the character of Princess Selenia.
Movie synopsis
Ten-year-old Arthur, in a bid to save his grandfather's house from being demolished, goes looking for some much-fabled hidden treasure in the land of the Minimoys (Invisibles), a tiny people living in harmony with nature.
Production info

Directed by: Luc Besson


Written by: Luc Besson & Céline Garcia


Produced by: Luc Besson & Emmanuel Prévost


Production companies: EuropaCorp., Avalanche Productions, TF1 Films Productions


Production dates: June 2003 - Jan. 2005


Filming dates: May 2004 - Dec. 2004


Budget: € 65,000,000 (= $ 80,000,000)
Release info

Released as: Arthur and the Minimoys
[France: Arthur et les Minimoys]
[UK & US: Arthur and the Invisibles]


Released in theatres: December 2006


Released on DVD: May 15th 2007 (US) / June 20th 2007 (UK)


Runtime: 102 min.


Genre: Animation


MPAA rating: G
Soundtrack

Original music by: Eric Serra
The soundtrack doesn't contain songs by Madonna.
↑ Back to top of page