Madame X
---
Album artwork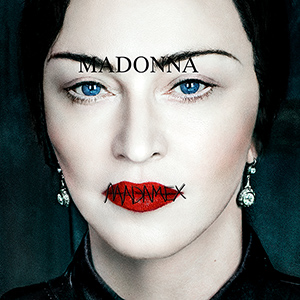 Album cover
Album tracklist
Standard/Deluxe Edition:
Deluxe box set bonus disc:
Album release
More than 4 years after Rebel Heart, Madonna returns with the release of her 14th studio album. She uses that number 14 in her promotion: on April 14 she announces the album title, Madame X, while the album release is set for June 14, 2019.
In a series of Instagram posts, Madonna reveals the many personas of Madame X: she's a secret agent, a dancer, a professor, a head of state, a housekeeper, an equestrian, a prisoner, a student, a teacher, a nun, a mother, a child, a singer, a saint, a whore, and a spy in the house of love. In interviews, Madonna explains that Madame X was a name given to her by Martha Graham, when she studied at Graham's school of dance. Martha Graham gave her the name because Madonna was always dressing differently and taking on different identities, similar to the character Madame X from the 1908 play 'Madame X' by Alexandre Bisson and the 1966 movie 'Madame X', featuring Lana Turner.
The album is influenced by music and dance genres from Portugal (fado) and Cape Verde (morna, funana). Adding to the latin vibes are collaborations with Colombian reggaeton singer Maluma and Brazilian singer Anitta. There are also features by Swae Lee and Quavo.
When Madonna started working on the lbum in January 2018, she introduced us to the first songwriter for the album: Starrah. She ended up co-writing 6 album tracks.
After struggling to find the right producer for the record, Madonna reconnected with Mirwais, who previously worked on the albums Music, American Life and Confessions on a Dance Floor. Also on board were Mike Dean and Diplo, who both worked on many Rebel Heart tracks.
The album was released in different physical formats:

Standard Edition - CD album, single disc


Double vinyl 12" album - Black Vinyl


Double vinyl 12" album - WEB Exclusive Clear Vinyl


Double vinyl 12" album - Rainbow picture disc


Deluxe Edition - CD album, double disc, hardcover


Deluxe Box Set - 2 CDs - hardcover, cassette album, 7" picture disc, poster, tattoo set


Compact cassette
The Deluxe Edition contains 2 more tracks than the Standard Edition, while the box set brings us another 3 bonus tracks.
Singles
With this album, Madonna blurred the difference between singles and album tracks. Before the album release, fans got to hear 5 songs: 'Medellín', 'I Rise', 'Crave', 'Future' and 'Dark Ballet'. Not all were considered as full-on singles: some were promoted more than others.
On April 17, Madonna released 'Medellín', a midtempo reggaeton song which sees her collaborating with Colombian singer Maluma. Two weeks after the release, they performed the song together at the Billboard Music Awards.
'I Rise' followed on May 3rd. It initially didn't get a video, but after a few weeks Madonna teamed up with Time Magazine for a video that shows a global population fighting for rights, recognition and survival. But the video does not appear as an official video on Madonna's Youtube channel.
For 'Crave', released on May 10th, Madonna and Swae Lee featured in a beautiful, mostly black & white video. 'Future' was available for download on May 17th, a day before it was performed by Madonna and Quavo at the Eurovision Song Contest in Tel Aviv.
'Dark Ballet' was the final song made available before the album release on June 7th. It tells the story of Joan of Arc, stunningly visualized by queer artist and activist Mykki Blanco in the video. 'God Control' got a video on June 26, taking a strong stand against gun violence with a very graphic video.The sixth and last video was for ''Batuka'', released on July 19.
Remix packages were made for 'Medellín', 'I Rise', 'Crave' and 'I Don't Search I Find', resulting in all of them reaching #1 in the Billboard Hot Dance chart.
Charts
On the day of its release, Madame X debuted at #1 in the iTunes album charts in more than 60 countries, including the US, UK, Australia, Canada, France, Germany and Italy.
In its first week, it reached the #1 in the US Billboard 200 album chart (making it her 9th #1 album in the US), while in the UK, Belgium, The Netherlands and Italy it landed at #2, right behind the album by Bruce Springsteen.
↑ Back to top of page